INTERNATIONAL DATELINE OCTOBER 7 . . .
INTERNATIONAL DATELINE OCTOBER 7 . . . INTE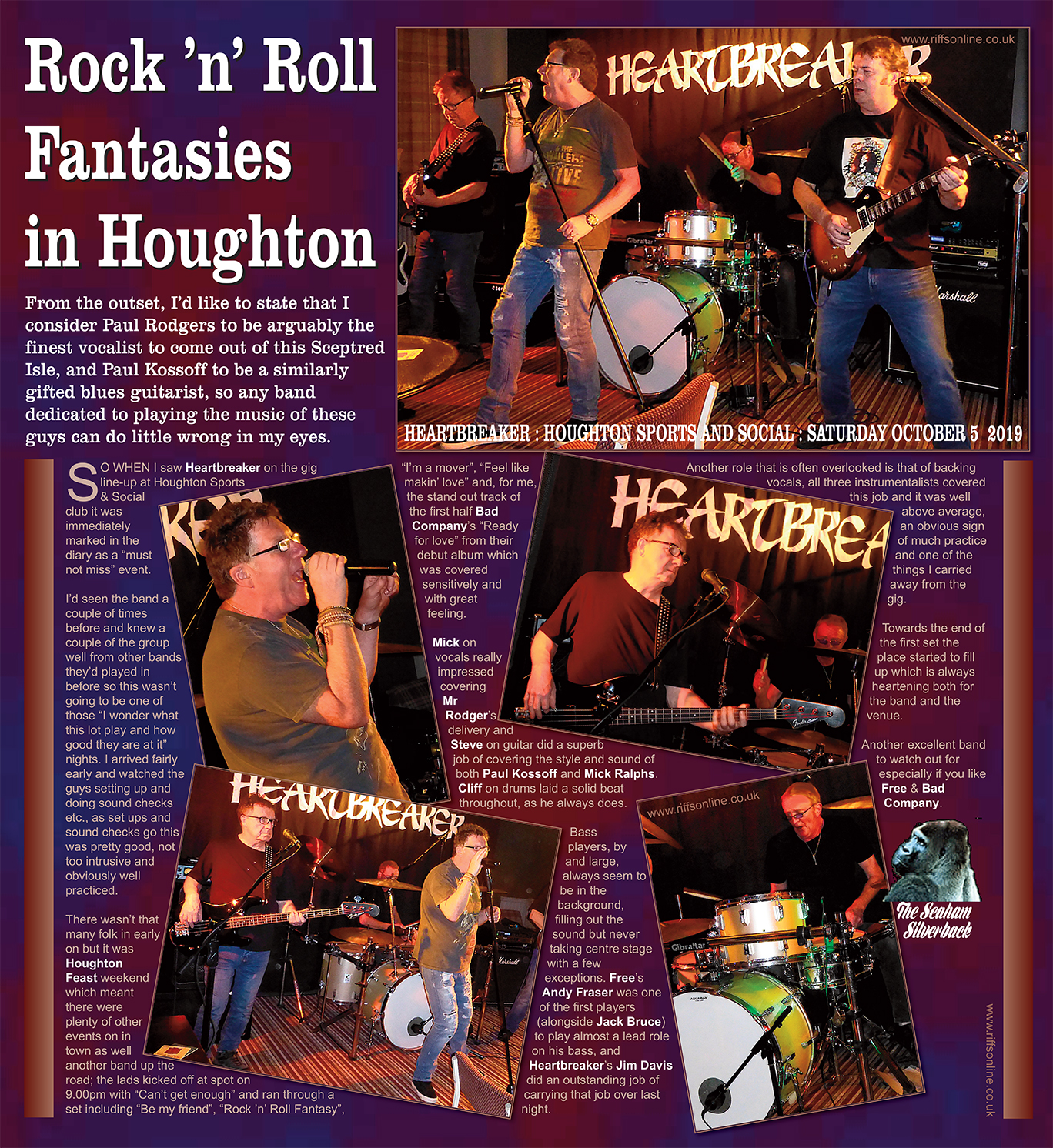 The band's website:
https://www.acdcgb.co.uk/
For a taste of the band: https://youtu.be/QRCIfpYXSC8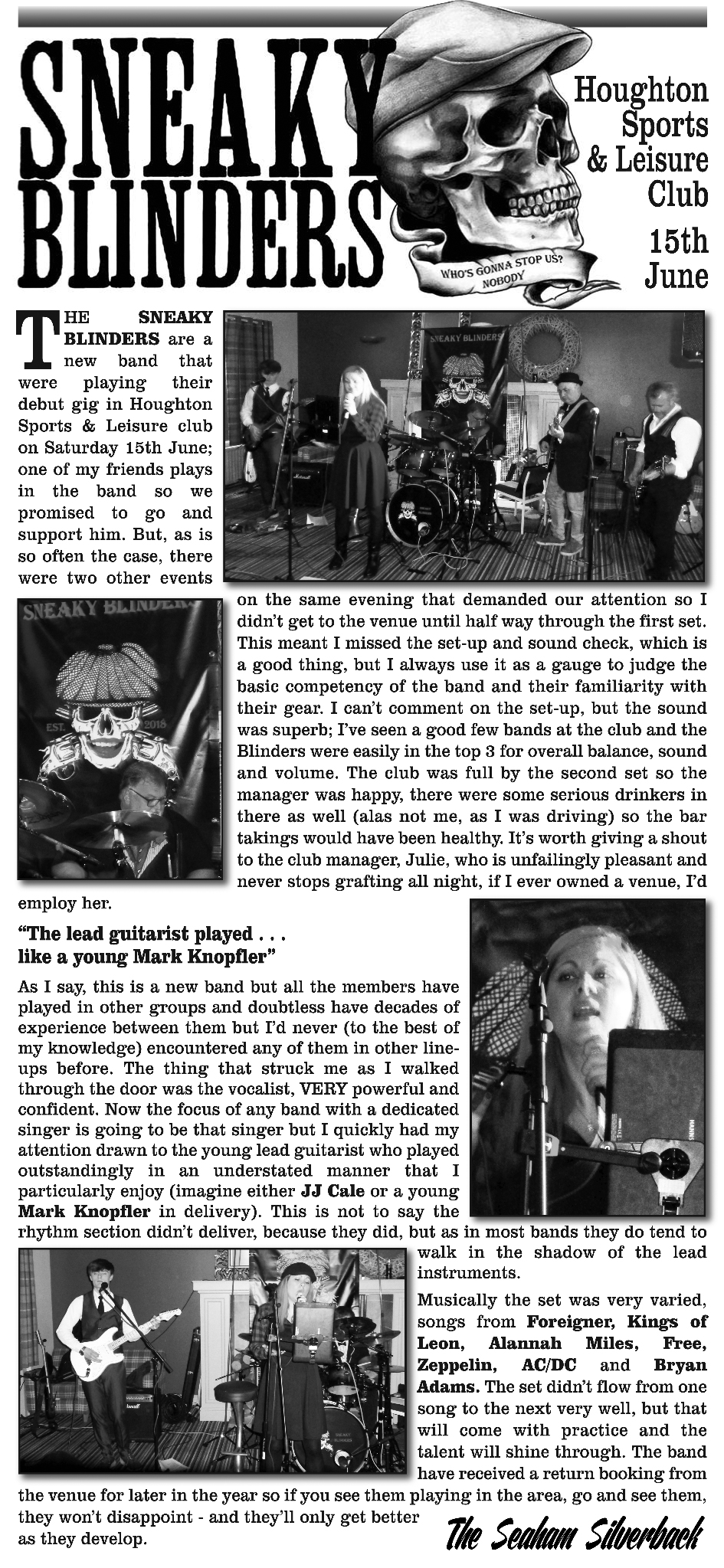 https://youtu.be/jhUhw_J5ItE
https://youtu.be/DkWRCv5HDjk
The NE Street Band, playing iconic songs from Bruce Springsteen and The E Street Band debuted at The Old Fox in Felling just recently and we have added a link to some footage here (only phone footage).
The band's website: https://www.nestreetband.co.uk
They are at the Amphitheatre in South Shields on Thursday 6th June, 7pm-9pm for an evening of Bruce Springsteen sounds, as part of the Summer Festival.

---------------------------------------------------------------

Over 2000 pies, 100 varieties including Veggie and Vegan options all served with creamy mash, mushy peas and special house gravy £3.50.
CROOKFEST 2019 - MAY 5
If you like your rock of the hard and heavy variety check out Conspiracy Theory; a new band making inroads into the north east rock and metal scene. If you're a bit tired of seeing too many rock bands playing the same old stuff, CT's intention is to do the songs that no-one else does. And that doesn't mean obscure material you've never heard of, if you're into rock and metal you'll know everything they do. From Rainbow to Dio, Whitesnake to Purple, Maiden to Priest, Uriah Heep to Rush or the guitar greats such as Schenker or Moore, you won't forget them in a hurry. With stellar musicianship from highly experienced players having cut their teeth in bands such as PowerAge, Ministry of Rock, Black Rose and On The Rocks you're bound to have a night to remember. You can catch them at Trillians, Newcastle on Friday 22nd February, The Penny Gill, Spennymoor Sunday 3rd March, Acklam Steelies Club, Middlesbrough Saturday 9th March or the Big Jug, Durham on Friday 15th March.


CELEBRATING ROCK AND METAL:


Factoid: With Jimmy Page on guitar and The Ivy League on backing vocals, The Who released their first single 'I Can't Explain' in 1965.

This week in . . .
1967 - Pink Floyd and Marmalade played at The Marquee Club, London. Marmalade went on to score a No.1 hit with their version of The Beatles' Ob-La-Di, Ob-La-Da in 1968.

1967 - The Monkees were at No.1 on the singles with 'I'm A Believer', the group's only No.1. The song, composed by Neil Diamond, had 1,051,280 advance orders, and went gold within two days of release. It is one of fewer than forty all-time singles to have sold more than 10 million physical copies worldwide.

1980 - The Pretenders scored their first No.1 hit with their third single 'Brass In Pocket'. The bands self-titled debut album started a four-week run at No.1 on the chart also on this day. Singer Chrissie Hynde got the idea for the song's title when, during an after-show dinner, she overheard someone enquiring if anyone had "Picked up dry cleaning? Any brass in pocket?"

1988 - Bon Jovi and Mötley Crüe manager Doc McGhee pleaded guilty to importing more than 40,000lb of marijuana into the US from Colombia via a shrimp boat. McGhee received a five-year suspended prison sentence, a fine of $15,000, and was ordered to set up an anti-drugs foundation.

1998 - American singer, songwriter Carl Perkins died aged 65 from throat cancer. He wrote the classic rock n roll song 'Blue Suede Shoes', the first record on the Sun label to sell a million copies. His songs were recorded by Elvis Presley, The Beatles Jimi Hendrix and Johnny Cash. Paul McCartney claimed that "if there were no Carl Perkins, there would be no Beatles."

Wilson Pickett died in hospital near his Ashburn, Virginia home aged 64 of a heart attack. Pickett recorded the soul classics 'Mustang Sally', 'Everybody Needs Somebody to Love' and 'In The Midnight Hour' plus Pickett scored 15 other US Top 40 singles.

2012 - Jamaican singer, songwriter and record producer Winston Riley died aged 68. He had been shot in the head at his home in Kingston. After being in a coma since the shooting, he died on 19 January. He formed the band The Techniques in 1962. Riley's own song, 'Double Barrel', performed by Dave and Ansell Collins under his own production, was one of the first international reggae hits, reaching No.1 in the Dutch and UK Singles Chart.

2019 - Scottish drummer Ted McKenna died aged 68 of a hemorrhage during a routine operation for a hernia. He worked with The Sensational Alex Harvey Band, Rory Gallagher, The Michael Schenker Group and toured with Ian Gillan for a short period in 1990.

1960 - Johnny Preston started a run at No.1 on the singles chart with 'Running Bear'. Written by J.P. Richardson (The Big Bopper), the tune originally entered the chart in October 1959, then quickly vanished, but re-entered in November and slowly climbed to the top.

1964 - The Beatles made their US chart debut when 'I Want To Hold Your Hand' entered the chart at No.45 just ten days after its release, making it the fastest-breaking and the fastest selling single in Capitol Records history. It went on to spend seven weeks at the No.1 position.

1967 - The Jimi Hendrix Experience recorded an appearance on Top Of The Pops performing a live version of "Hey Joe". They also played a show at the Seven and a Half Club in Mayfair, London during the evening.

1974 - Former members from Free (Paul Rodgers & Simon Kirke), Mott The Hoople (Mick Ralphs), and King Crimson (Boz Burrell) formed Bad Company. The band went on to score a No.1 album with their debut release.

Wendy O. Williams of The Plasmatics was arrested on stage at Milwaukee and was charged with the offence of simulating sex with a sledgehammer. Williams later filed a multimillion dollar civil suit against the Milwaukee Police, claming they sexually assaulted and beat her during the arrest, but a jury rejected her claims.

2000 - Spencer Goodman was executed by lethal injection in Huntsville, Texas. Goodman was convicted of kidnapping and murdering the wife of ZZ Top manager Bill Ham in 1991. Ham was present for the execution.

2007 - Islington Green School in North London was fighting plans to turn it into an academy. The school, which found fame when some of its pupils sang on Pink Floyd's hit 'Another Brick In The Wall (Part 2)' wrote a new version of the song to sing outside Islington Town Hall as part of their protest. They hoped lyrics such as 'We don't need no business control' and 'Hey bankers leave our kids alone' could persuade authorities to reject the proposal.

2010 - Canadian folk singer Kate McGarrigle died of cancer at home in Montreal at the age of 63. Once married to folk singer Loudon Wainwright lll, Kate was the mother of singers Rufus and Martha Wainwright. She rose to prominence with sister Anna when they recorded together in the 1970s. Other artists who covered the pair's songs included Emmylou Harris, Elvis Costello, Billy Bragg, Kirsty MacColl and Judy Collins.

2015 - American session drummer Dallas Taylor died of complications from viral pneumonia and kidney disease, aged 66. He is best known as the drummer on Crosby, Stills and Nash's debut album, Crosby, Stills & Nash (1969) and their follow-up with Neil Young, Déjà Vu (1970) as well as appearing on Stephen Stills' eponymous first solo album in 1970. Taylor was the drummer for Stills' group Manassas in 1972 and 1973. In 1970, Dallas sat in with The Doors accompanying John Densmore on drums. Jim Morrison acknowledges him on The Doors Live in New York album.

2016 - The Eagles guitarist Glenn Frey died at the age of 67 in New York City from complications arising from rheumatoid arthritis, colitis and pneumonia. Frey co-founded the Eagles in 1971 with Don Henley, Bernie Leadon and Randy Meisner. After the breakup of the Eagles in 1980, Frey embarked on a successful solo career and went on to score the Top 40 hits 'The One You Love', 'Smuggler's Blues', 'The Heat Is On', and 'You Belong to the City'.

1966 - NBC-TV in the US bought The Monkees series, placing it on their 1966 autumn schedule. The series centered on the adventures of The Monkees, a struggling rock band from Los Angeles, California and introduced a number of innovative new-wave film techniques to television.

1967 - 40-year-old David Mason recorded the piccolo trumpet solo for The Beatles 'Penny Lane' at Abbey Road Studios in London. He was paid £27 and 10 shillings for his performance. In August, 1987, the trumpet he used was sold at a Sotheby's auction for £10,846.

1967 - The Jimi Hendrix Experience recorded a session for Radio Luxembourg's Ready Steady Radio. The band ran up a bar bill of £2 and 5 shillings, which they were unable to pay.

1978 - Scottish rock band Simple Minds made their live debut at The Satellite Club, Glasgow.

1981 - Motley Crue formed when bass guitarist Nikki Sixx left the band London and began rehearsing with drummer Tommy Lee and vocalist, guitarist Greg Leon (who later left). Sixx and Lee then added guitarist Bob "Mick Mars" Deal. Vince Neil accepted an offer to join (after turning them down) in April of this year.

1987 - Kate Bush started a two-week run at No.1 on the album chart with The Whole Story'. The compilation album was Bush's third number one album as well as her best selling release.

1996 - David Bowie Tom Donahue, The Jefferson Airplane, Gladys Knight And The Pips, Little Willie John, Pink Floyd, Pete Seeger, The Shirelles and The Velvet Underground were all inducted into the Rock and Roll Hall of Fame.



2003 - A long-lost recording featuring John Lennon and Mick Jagger was set to spark a bidding war at a London auction. The acetate record was recorded in 1974 with Jagger singing the blues song 'Too Many Cooks'. The track features guitarists Danny Kortchmar and Jesse Ed Davis, keyboardist Al Kooper, bassist Jack Bruce, drummer Jim Keltner and, on backing vocals, singer-songwriter Harry Nilsson. Neither Lennon nor Bill Wyman, who was present at the session, appear on the track. The track had never been released because the two artists were both signed to different record companies.

2016 - English drummer Dale Griffin died aged 67. He was a founder member of Mott the Hoople best known for classic tracks 'Roll Away The Stone' and 'All The Young Dudes'. The band, who made eight albums during their five-and-a-half year existence, reformed to mark their 40th anniversary in 2009 - but Griffin was too ill to take part. Griffin also produced numerous BBC John Peel sessions from 1981 to 1994 including the first professional recording session for Pulp in 1981.

1964 - The Beatles played two shows at the Olympia Theatre, Paris, France, the first of an 18-night engagement. This first show was attended mostly by Paris' 'top society' members (all dressed in formal evening attire). The French press had little good to say about The Beatles in the next day's papers, but The Beatles didn't care because they'd just received news that their single 'I Want to Hold Your Hand' had hit No.1 in the US, selling 10,000 copies an hour in New York City alone.

1973 - Bruce Springsteen appeared at Villanova University, Philadelphia, to an audience of 25 people. Due to a strike at the time by Villanova's school newspaper The Villanovan, this concert went unadvertised, so this is probably the smallest crowd Bruce and The E Street Band have ever played in front of.

1982 - Bucks Fizz were at No.1 on the singles chart with their second No.1 'Land Of Make Believe'. The lyrics to the song were written by ex-King Crimson member Peter Sinfield.

1985 - 1985, David Bowie's schizophrenic half-brother Terry Burnes killed himself aged 47 after laying down on the railway lines at Coulsdon South station, London. He was killed instantly by a passing train. Bowie refers to his half-brother in the line 'a crack in the sky and a hand pointing down at me' in his song 'Oh, You Pretty Things'.

1987 - TV presenter Jools Holland was suspended from Channel 4's The Tube for 6 weeks, after using the phrase 'groovy fuckers' during a live trailer broadcast in children's hour.

1992 - Eric Clapton recorded his unplugged session for MTV. The set which included his current hit single 'Tears in Heaven' and a reworked acoustic version of 'Layla', earned six Grammy Awards for the album including Record of the Year.

2000 - It was reported that Mick Jagger had lost the chance of a knighthood because of his errant ways, Prime Minister Tony Blair having doubts about the message it would give about family values. This decision was changed and on 12 December 2003, Mick Jagger was made a Knight Bachelor by The Prince of Wales for services to music, as Sir Michael Jagger.

2007 - Bob Dylan and his brother bought Aultmore House a mansion in the Scottish Cairngorms National Park, near Nethybridge, Invernesshire.

2013 - It was announced that Joe Strummer was to have a city square named after him in Spain following a Facebook campaign. More than 2,000 residents of Granada, where The Clash frontman became a frequent visitor, signed a petition calling for him to be honoured. City hall officials agreed to the proposals and a square in the area was set to be renamed 'Plaza de Joe Strummer'.



2019 - American musician Lorna Doom died of cancer age 61. She was the bass guitarist for the punk rock band the Germs. Their music was influential to many later punk rock acts. Germs guitarist Pat Smear went on to achieve greater fame performing with Nirvana and Foo Fighters.

1967 - The Rolling Stones were forced to change the lyrics of 'Let's Spend The Night Together' to Let's Spend Some Time Together when appearing on the US TV The Ed Sullivan Show, after the producers objected to the content of the lyrics. Jagger ostentatiously rolled his eyes at the TV camera while singing the changed lyrics, resulting in host Ed Sullivan announcing that The Rolling Stones would be banned from performing on his show ever again.

1969 - George Harrison had a five-hour meeting with John, Paul and Ringo where he made it clear that he was fully prepared to quit The Beatles permanently. Harrison wasn't happy with plans for live performances and the current Let It Be film project.

1971 - David Bowie released 'Holy Holy' as a single which failed to chart. A more frantic version of the song was recorded in 1971 for The Rise And Fall Of Ziggy Stardust And The Spiders From Mars but was dropped from the album but subsequently appeared as the B-side to 'Diamond Dogs' in 1974.

1976 - Pink Floyd's Wish You Were here was on the album chart. The album's packaging, designed by Storm Thorgerson, featured an opaque black sleeve inside which was hidden the album artwork. Thorgerson had noted that, in the US, Roxy Music's Country Life was sold in an opaque green cellophane sleeve - censoring the cover image - and he adopted the idea, concealing the artwork for Wish You Were Here in a dark-coloured shrink-wrap (making the album art 'absent').

1992 - Bass guitarist Dee Murray died after suffering a stroke aged 45. He is best known as a member of Elton John's band. He first appeared with Elton on the 1970 album Tumbleweed Connection and the milestone albums Goodbye Yellow Brick Road and Captain Fantastic and the Brown Dirt Cowboy. Murray and drummer Nigel Olsson were also members of the Spencer Davis Group in 1969 and during the Eighties Murray continued working as a session musician.

2002 - 1980s Pop legend Adam Ant was admitted to a mental ward 24 hours after being charged by police with pulling a gun on staff in a London pub.

2016 - Nineteen of David Bowie's albums entered the album charts in the wake of his death. His new album, Blackstar, reached No.1, and in the top 40, Nothing Has Changed - The Very Best Of was at No.5, The Best Of 1969 / 1974 was at No.11, Hunky Dory, No.14, The Rise and Fall of Ziggy Stardust, No.17, Best of Bowie, No.18, Aladdin Sane, No.23, The Next Day, No.25, Low No.31 and Diamond Dogs, No. 37. Thirteen Bowie tracks also entered the top 100, led by 'Heroes' at No.12. Also his songs were streamed more than 19 million times on services such as Apple Music and Spotify.

1967 - Over 25,000 people attend The Human Be-In-A Gathering Of The Tribes at San Francisco's Golden Gate Park. The event was a forerunner of major outdoor rock concerts and featured The Grateful Dead, Jefferson Airplane, Quicksilver Messenger Service and Big Brother And The Holding Company.

1977 - David Bowie released his eleventh studio album Low, the first of three collaborations with Brian Eno termed the "Berlin Trilogy". The track 'Sound and Vision' was released as a single and used by the BBC on trailers at the time, providing much needed exposure as Bowie opted to do nothing to promote the single himself, and helped the song reach No.3 on the charts.

1978 - The Sex Pistols played their last show at the Winterland Ballroom in San Francisco where Johnny Rotten yelled to the crowd at the outset, "Ever get the feeling you've been cheated." It was the last time the band played with bassist Sid Vicious.

Jerry Nolan from The New York Dolls died from a fatal stroke aged 45. The influential American band formed in 1972 and made just two albums, the 1973 New York Dolls and 1974 Too Much Too Soon. Nolan joined the New York Dolls in the autumn of 1972 to replace Billy Murcia, who had died of asphyxiation as a result of a failed attempt to revive him from a drug overdose while on tour in England, early in the band's career. Nolan left the Dolls together with Johnny Thunders in the spring of 1975. The two then placed a call to bassist Richard Hell, formerly of the Neon Boys and Television, to form The Heartbreakers.

2005 - A $100,000 (£58,823) statue honouring the late punk guitarist Johnny Ramone was unveiled by his widow Linda at the Hollywood Forever Cemetery. Johnny died from prostate cancer in September 2004 at the age of 55. Hundreds turned out for the ceremony, including Tommy Ramone the only surviving band member. Dee Dee Ramone died of a drugs overdose in 2002 and Joey died in 2001 of lymphatic cancer.

2012 - English drummer, producer, journalist, music educator, and broadcaster Robbie France died aged 52. Born in Sheffield, France moved to Australia where he formed the jazz-fusion group Carnival. He also worked with Stevie Wright of the Easybeats, Marty Rhone, Tim Gaze, and other major Australian artists as well as Skunk Anansie and Diamond Head. He amassed over 1,000 television, radio and advertising credits, including eight documentaries and four film scores, including Band on the Run, one of the most successful surfing films ever made.

Week Commencing January 6 . . .
1965 - The first day of recording sessions for Bob Dylan's Bringing It All Back Home album were held at Studio A, Columbia Recording Studios in New York City. Dylan recorded Subterranean Homesick Blues and 'It's All Over Now, Baby Blue'.

1967 - Paul McCartney and Ringo Starr both went to the Bag O'Nails Club, London, to see the Jimi Hendrix Experience.

1973 - Eric Clapton made his stage comeback at the Rainbow Theatre, London, with Pete Townsend, Ronnie Wood, Stevie Winwood, Rebop, Jim Capaldi and support from The Average White Band. The night's two shows were recorded for the 'Rainbow Concert' album. Pete Townshend from The Who had organised the concert to help Clapton kick his heroin addiction.

1978 - With a budget of only £1,500 borrowed from Stewart Copeland's brother Miles Copeland III, The Police started recording their debut album at Surrey Sound Studios, Surrey, with producer Nigel Gray. The album 'Outlandos d'Amour' which was released in November of this year featured the hits 'So Lonely', 'Roxanne' and 'Can't Stand Losing You'.

1984 - BBC Radio 1 announced a ban on 'Relax' by Frankie Goes To Hollywood, after DJ Mike Read called it 'obscene', a BBC TV ban also followed. The song went on to become No.1 and spent a total of 48 weeks on the chart. It has been revealed since that the band never actually played on the record - it was completed by session musicians.

1986 - Sex Pistols members John Lydon, Steve Jones and Paul Cook, as well as the mother of Sid Vicious, sued former manager Malcom McClaren for £1 million. They later settled out of court.

2003 - Who guitarist Pete Townshend was arrested on suspicion of child porn offences. Police officers impounded seven computers from his £15 million home in Richmond, Surrey.

2016 - The Rolling Stones first manager, Giorgio Gomelsky, passed away at the age of 82. He owned the Crawdaddy Club in London where The Rolling Stones were the house band. After he was replaced by Andrew Loog Oldham in May, 1963, Gomelsky went on to manage The Yardbirds, Julie Driscoll and Brian Auger before moving to New York in 1978 and opening The Green Door nightclub.

2017 - Magic Alex (Alexis Mardas) a Greek electronics engineer died aged 74. He is best known for his close association with the Beatles. His nickname was given to him by John Lennon when he was involved with the group between 1965 and 1969, during which time he became head of Apple Electronics. Mardas often said that the Abbey Road studio was "no good", much to producer George Martin's annoyance. He allegedly said that he could build a 72-track tape machine and was then given the job of designing the new Apple Studio in Savile Row, London. His schemes lost Apple at least £300,000 (£3 million in 2017).

1969 - Led Zeppelin's debut album was released. Recorded at Olympic Studios in Barnes, London, the album took only 36 hours of studio time to complete at a cost of just £1,782, most of the tracks being recorded 'live' in the studio with very few overdubs. The album spent a total of 71 weeks on the chart.

Little Feat, Montrose, Tower Of Power, The Doobie Brothers and Graham Central Station. Also released was an album sampler featuring all the acts that was priced at 69p.

1977 - The Police had their first rehearsal, held at drummer's Stewart Copeland's London flat, with Henri Padovani on guitar.

1983 - Swedish percussionist with Traffic, Reebop Kwaku Baah died from a brain haemorrhage in Stockholm, Sweden. Also worked with Eric Clapton, Steve Winwood, Ginger Baker's Air Force, Can and The Rolling Stones.

1993 - Van Morrison failed to turn up at the Rock And Roll Hall Of Fame induction dinner, making him the first living inductee not to attend.

2003 - Singer-songwriter Maurice Gibb from The Bee Gees died aged 53 in Miami Hospital, Florida following a heart attack during abdominal surgery. The Bee Gees released over 20 albums and had the 1979 world-wide No.1 album 'Spirits Having Flown'. Gibb was married to the Scottish singer Lulu from 1969 to 1973. In 2002, Maurice was made a Commander of the British Empire (CBE), along with his brothers.

2013 - The 1974 Rolls-Royce Silver Shadow used by Freddie Mercury until his death in November 1991, sold at auction for £74,000 to a Russian businessman. The 62,000-mile classic Rolls-Royce which had a guide price of just £9,000-£11,000 featured grey leather, wood trim, electric windows, automatic gearbox, a car phone and radio cassette player and a 6.75-litre V8 engine. It was sold as part of the Coys auction at Autosport International.

2017 - Richard Carpenter said he was owed at least $2m (£1.6m) in royalties for the hits he recorded in The Carpenters. He claimed Universal Music had only paid the band a "minuscule fraction" of the money they were owed from downloads on sites such as iTunes and Amazon. The musician was suing for compensation, according to legal documents filed in Los Angeles.

1958 - The release date for the Elvis Presley single 'Jailhouse Rock' was put back a week after Decca Records pressing plant in the UK were unable to meet the advance orders of 250,000 copies. Some of the characters named in the song are real people. Shifty Henry was a well-known LA musician, not a criminal. The Purple Gang was a real mob. "Sad Sack" was a U.S. Army nickname in World War II for a loser.

1967 - The Jimi Hendrix Experience recorded 'Purple Haze' at De Lane Lea studios in London. Hendrix later stated 'The Purple Haze,' was about a dream he had and that he was walking under the sea." In concert, Hendrix sometimes substituted lyrics for comic effect; "'scuse me while I kiss the sky" was rendered "'scuse me while I kiss this guy" (while gesturing towards his drummer Mitch Mitchell).

1975 - The Alan Freeman BBC Radio 1 show broadcast a Pink Floyd show recorded at the Empire Pool, Wembley, on 16th Nov 1974. The band had played four nights at Wembley on their The Dark Side of The Moon tour and tapes from these shows have been remixed.

1975 - Led Zeppelin played their first concert in 18 months when they appeared at the Ahoy, Rotterdam, Holland, playing one of two warm-up shows for their forthcoming North American tour. The set list included some new songs: 'Sick Again', 'The Rain Song', 'Kashmir', 'No Quarter' and 'Trampled Under Foot'.

1985 - A Brazilian rock Festival held in Rio claimed to be the biggest ever staged. The festival featured Queen, Rod Stewart, AC/DC, Whitesnake, Yes and Iron Maiden.

2005 - Former Bread guitarist and Academy Award-winning songwriter James Griffin died at his home in Nashville at the age of 61 after suffering from cancer. Bread had the 1970s hits 'Make It With You', 'Baby I'm-a Want You', and 'Everything I Own.'

1953 - Jo Stafford was at No.1 on the singles chart with 'You Belong To Me'. Originally a singer with Tommy Dorsey until 1942, she was the first female to have a No.1 on the singles Chart.

Howlin Wolf (Chester Burnett), died in hospital of cancer aged 66. The guitarist, singer and harmonica player's well known songs included 'Smoke Stack Lightning', 'Little Red Rooster' and 'Spoonful.'

1981 - John Lennon's Imagine started a four-week run at No.1 on the singles chart, 10 years after it was recorded. Lennon had two other songs in the Top 5 this week, 'Happy Christmas (War Is Over') and '(Just Like) Starting Over.' 'Imagine' was voted by the viewers of BBC TV as the best lyrics of all time in a poll broadcast in Oct 1999.

2003 - A haul of 500 Beatles tapes known as the 'Get Back sessions' stolen in the 1970s were found after police cracked a major bootleg operation in London and Amsterdam. Five men were arrested.

2005 - A woman was suing Gene Simmons from Kiss for slander, alleging a documentary made her out to be a "sex-addicted nymphomaniac". Georgeann Walsh Ward, 53, of New York, said during a VH1 documentary her photo was flashed up as Simmons talked about his past sexual encounters. Ms Walsh Ward had dated Simmons for three years when he was a student. In the documentary, Simmons boasted of having sex with over 4,600 women.

2013 - Claude Nobs the founder and general manager of the Montreux Jazz Festival died aged 76. During a 1971 Frank Zappa concert, at the Montreux Casino the venue caught fire. Nobs saved several young people who had hidden in the casino thinking they would be sheltered from the flames. This act earned him a mention (as Funky Claude in the line "Funky Claude was running in and out pulling kids out the ground") in the Deep Purple song Smoke on the Water, which is about the incident.

2016 - Singer, songwriter, multi-instrumentalist, record producer, painter, and actor David Bowie died from liver cancer at his New York home two days after releasing the album Blackstar on his 69th birthday. His first Top 40 single was the 1969 'Space Oddity' which became a No.1 in 1975, plus over 50 other Top 40 hits including five No.1s. During his lifetime, his record sales, estimated at 140 million albums worldwide, made him one of the world's best-selling music artists.

1955 - Rosemary Clooney was at No.1 on the singles chart with 'Mambo Italiano' the singer's second No.1. The song was banned by all ABC owned stations in the US because it "did not reach standards of good taste".

1963 - Drummer Charlie Watts joined The Rolling Stones after leaving Blues Incorporated and his job working as a graphic designer.

1970 - During a UK tour Led Zeppelin appeared at The Royal Albert Hall, London, the night of Jimmy Page's 26th birthday. (John Lennon, Eric Clapton and Jeff Beck were all in the audience). The two and a quarter hour set was recorded and filmed but shelved for several decades, eventually seeing a release on a 2003 official DVD.

1976 - Queen were at No.1 on the singles chart with 'Bohemian Rhapsody'. The single enjoyed a nine week run on the chart selling more than a million copies by the end of the month. It reached No.1 again in 1991 for five weeks following Mercury's death, eventually becoming the UK's third best selling single of all time.

1981 - Terry Hall and Jerry Dammers from The Specials were both fined £400 after being found guilty of using threatening words during a gig in Cambridge.

1997 - David Bowie performed his 50th Birthday Bash concert (the day after his birthday) at Madison Square Garden, New York with guests Frank Black, Sonic Youth, Robert Smith of The Cure, Dave Grohl, Lou Reed, Billy Corgan and Placebo. Proceeds from the concert went to the Save The Children fund.

Dave Dee died at the age of 65, following a three-year battle with cancer. The singer had eight top 10 hits, with Dave Dee, Dozy, Beaky, Mick and Tich including a number one single in 1968 with 'The Legend of Xanadu', in which Dee famously cracked a whip. The singer, whose real name was David Harman, was originally a police officer and as a police cadet was called to the scene of the car crash that killed Eddie Cochran during a tour in 1960.

2016 - Stars paid tribute to Motorhead frontman Lemmy at his funeral at Forest Lawn Memorial Cemetery. Motorhead drummer Mikkey Dee, Foo Fighters' Dave Grohl, Slash from Guns N' Roses, Robert Trujillo and Lars Ulrich from Metallica, Judas Priest singer Rob Halford and Anthrax frontman Scott Ian all spoke at the service. Lemmy's bass guitar was plugged in to a stack of amplifiers and the volume turned up, with the congregation applauding as feedback from the speakers filled the chapel.

1958 - The Everly Brothers kicked off a 17 date North American tour at the Coliseum in Charlotte, North Carolina. Also on the bill, Buddy Holly, The Rays, Royal Teens, Shepherd Sisters, Paul Anka, Margie Rayburn and 
Danny & The Juniors.

1979 - Canadian rock band Rush were named the country's official Ambassadors Of Music by the Canadian government.

1991 - Steve Clark guitarist with Def Leppard, was found dead at his Chelsea flat by his girlfriend, after a night of heavy alcohol consumption combined with prescription drugs. The autopsy revealed he had died from an overdose of codeine and had Valium, morphine and a blood alcohol level three times the legal driving limit. In 2007 Clark was ranked No.11 on Classic Rock Magazine's "100 Wildest Guitar Heroes".

2010 - Jimmy Page launched a new set of stamps which featured classic album covers from the last 40 years including Coldplay, Power, Corruption And Lies, New Order, David Bowie and Parklife by Blur.

2016 - David Bowie released his twenty-fifth and final studio album Blackstar, coinciding with his 69th birthday and two days before his death. At the 59th Annual Grammy Awards, the album won awards for Best Alternative Music Album; Best Engineered Album; Best Recording Package, and the title single won Best Rock Performance, and Best Rock Song. The album was also awarded the British Album of the Year award at the 2017 Brit Awards.

1955 - 'Rock Around the Clock' by Bill Haley and his Comets entered the chart for the first time. The original full title of the song was 'We're Gonna Rock Around the Clock Tonight!' and is often cited as the biggest-selling vinyl rock and roll single of all time with sales over 25m.

Cyril Davies died of leukaemia aged 32. Davies was a driving force in the early Sixties blues movement forming Blues Incorporated with Alexis Korner. Davies and Korner opened the London Rhythm and Blues club "England's Firstest and Bestest Skiffle Club", later known as the "London Blues and Barrelhouse Club". Popular with other musicians, the club hosted gigs by blues musicians such as Muddy Waters, Sonny Terry and Brownie McGhee and Memphis Slim.

1970 - Led Zeppelin kicked off an 8-date tour at Birmingham Town Hall. The set list included: I Can't Quit You Baby, Dazed And Confused, Heartbreaker, Since I've Been Loving You, Thank You, Moby Dick, How Many More Times, Whole Lotta Love and Communication Breakdown.

1971 - Black Sabbath released 'Paranoid'. The album features the band's best-known signature songs, including the title track, 'Iron Man' and 'War Pigs'. The album was originally titled War Pigs, but allegedly the record company changed it to Paranoid, fearing backlash from supporters of the ongoing Vietnam War.

1972 - David Bowie released 'Changes' as a single. The track peaked at No.49 on the chart. This was the last song Bowie performed live on stage before his retirement from live performances at the end of 2006 when he joined Alicia Keys at the Black Ball fundraiser at New York's Hammersmith Ballroom.

1980 - Pink Floyd released 'Another Brick In The Wall (Part 2)'. The single peaked at No.1 on both the US and UK charts, giving Pink Floyd their first and only No.1 hit single. The single went to No.1 in many other countries, including Australia, Germany and Italy.

1980 - Hugh Cornwell of The Stranglers was found guilty of possession of heroin, cocaine and cannabis. He was fined £300 and sentenced to three months in Pentonville prison.

1981 - The Police played the first night of a North American tour at The University of Montreal, Quebec, Canada during their Zenyatta Mondatta World Tour.

1958 - Gibson guitars launched it' 'Flying V' electric guitar. Guitarists who played a Flying V include Albert Collins, Jimi Hendrix, Marc Bolan and Billy Gibbons from ZZ Top.

1964 - The first night of a 14 date UK tour 'Group Scene 1964', featuring The Rolling Stones, The Ronettes, Marty Wilde, The Swinging Blue Jeans and Dave Berry and The Cruisers played at the Granada Theatre, Harrow on The Hill, Middlesex.

1967 - The Who played their first gig of this year when they appeared at Morecambe, Central Pier. The band played over 200 gigs in this year, including their first ever US tour.

1975 - The mayor of Boston cancelled a Led Zeppelin concert after over 2,000 fans rioted trying to buy tickets. The fans caused up to $75,000 damage at Boston Garden. The gig during the bands North American tour was rescheduled for Feb 4th.

1975 - Pink Floyd started sessions start at Abbey Road Studios London for their next album Wish You Were Here. Their ninth studio album was released on 12 September 1975 and features 'Shine On You Crazy Diamond' a tribute to Syd Barrett whose mental breakdown had forced him to leave the group seven years earlier.



1977 - EMI Records dropped The Sex Pistols giving the band £40,000 to release them from their contract.

1979 - The Village People scored their only No.1 single with 'Y.M.C.A.' At its peak the single was selling over 150,000 copies a day. In the gay culture from which the group sprang, the song was understood as celebrating the YMCA's reputation as a popular cruising and hookup spot.

1993 - It was reported that David Bowie had lost over £2.5 million in unpaid royalties to an Italian Mafia-linked bootleg fraud.

Week Commencing December 30
1961 - The Beatles played at Litherland Town Hall, Liverpool. In the audience are two members from Rory Storm & the Hurricanes: Johnny Guitar and Ringo Starr who have just returned from Hamburg, Germany.

1967 - Pink Floyd and Eyes of Blue appeared at The Marquee Club London. Queen magazine said: "The two guitarists looked moody, the drummer thrashed wildly about and the lights kept flashing. After about twenty minutes it became very boring and after half an hour I left."

1968 - Jimi Hendrix was jailed for one day in Stockholm, Sweden on drink charges after going berserk and destroying everything in his room at the Goteberg Hotel.

1973 - Bruce Springsteen released his debut album 'Greetings from Asbury Park, N.J.' Recorded in a single week the album sold only about 25,000 copies in the first year of its release. Both 'Blinded By The Light' and 'Spirit In The Night' were released as singles but neither made a dent in the charts. Manfred Mann's Earth Band later released a version of 'Blinded By The Light' on their album 'The Roaring Silence,' which reached No.1 on the US charts in 1977.

1976 - Former Beatles roadie Mal Evans was shot dead by police at his Los Angeles apartment. His girlfriend called police when she found Evans upset with a rifle in his hand; he pointed the gun at the police who opened fire. Friends later said that Evans was depressed about his separation from his wife Lil Evans — who had asked for a divorce before Christmas.

1980 - David Bowie appeared on Saturday Night Live Live from New York City performing 'The Man Who Sold the World', 'TVC 15' and 'Boys Keep Swinging' with a specially prepared backing group, including Blondie's Jimmy Destri (keyboards) and Klaus Nomi and Joey Arias (backing vocals).

1991 - Iron Maiden went to No.1 on the singles chart with 'Bring Your Daughter To The Slaughter.' The second single from their album No Prayer for the Dying, became the lowest selling No.1 since 1960, with just over 42,000 copies sold in its first week. The song was originally recorded and released by Bruce Dickinson for the soundtrack to A Nightmare on Elm Street 5: The Dream Child, but Iron Maiden bassist Steve Harris liked it so Iron Maiden re-recorded it.

1998 - American singer, producer, and politician Sonny Bono was killed in a skiing accident at a resort near Lake Tahoe, aged 62. Bono who was one half on Sonny and Cher scored the 1965 No.1 single 'I Got You Babe' and had become a US Congressman. The United States Sonny Bono Copyright Term Extension Act of 1998, which extended the term of copyright by 20 years, was named in honor of Bono when it was passed by Congress nine months after his death.

1998 - Ken Forssi bassist with Love died of brain cancer aged 55. In 1965 he met Arthur Lee, who then had a band called Grass Roots and was greatly impressed. Lee hired Forssi as bassist, and soon officially formed Love. Love scored the 1968 No.24 album Forever Changes.

2001 - Kirsty MacColl was laid to rest at a private funeral ceremony, ahead of a public memorial to pay tribute to her life. The singer songwriter was killed in a boating accident on 18th Dec 2000.

2004 - Kinks singer Ray Davies was shot in the leg while on holiday in New Orleans. The 59-year-old singer-songwriter was shot when running after two men who stole his girlfriend's purse at gunpoint. Davies was admitted to the Medical Centre of Louisiana but his injuries were not considered serious. New Orleans police said one person had been arrested, and police were still searching for the second.

2016 - Donald Fagen, lead singer and founder of Steely Dan, was arrested by New York police and charged with assaulting his wife at their home. Fagen was accused of pushing Libby Titus into a marble window frame, knocking her to the ground, at their Manhattan apartment.

1967 - The Doors released their self-titled debut album The Doors. The album features their breakthrough single 'Light My Fire' and the lengthy song 'The End' with its Oedipal spoken word section. The album was recorded at Sunset Sound Studios in Hollywood, California over six days and unique packaging of the album included each band members bio.

1967 - The Jimi Hendrix Experience played the first of what would be over 240 gigs in this year when they appeared at the Bromel Club, Bromley. (Many of the concerts were two shows per night).

1970 - Chauffeur Neil Boland was accidentally killed when The Who's drummer Keith Moon ran over him in his Bentley. Moon was trying to escape from a gang of skinheads after a fight broke out at a pub in Hatfield. Boland got out to try to protect the car but left it in gear. He fell under the car and it started moving with Moon at the wheel as he tried to escape the fight. The drummer had never passed his driving test.

1986 - Irish singer, songwriter and bassist Phil Lynott of Thin Lizzy died of heart failure and pneumonia after being in a coma for eight days following a drug overdose. With Thin Lizzy he had the 1973 hit 'Whiskey in the Jar' (their version of the traditional Irish song) and hits with 'The Boys Are Back in Town', 'Jailbreak' and 'Waiting for an Alibi'. The groups 1978 album 'Live and Dangerous' spent 62 weeks on the chart. Lynott fronted several bands as a lead vocalist, including Skid Row alongside Gary Moore. A life-size bronze statue of Phil Lynott was unveiled on Harry Street in Dublin Ireland in 2005.

2009 - Led Zeppelin singer Robert Plant was voted the Greatest Voice In Rock by listeners of radio station Planet Rock. Plant beat Queen's Freddie Mercury, Free's Paul Rodgers and Deep Purple's Ian Gillan to the top spot in the poll.

2011 - Scottish singer songwriter Gerry Rafferty died aged 63 after a long illness. Rafferty had been a member of Stealers Wheel, who had the 1973 No.8 single 'Stuck In The Middle With You' and had the solo 1978 single 'Baker Street.'

The Jimi Hendrix Experience were booked to perform two songs, 'Voodoo Child' (which was performed in full), then Hendrix stopped performing his new single 'Hey Joe' after a verse and chorus and instead launched into a version of the Cream song 'Sunshine Of Your Love' as a tribute to the band who had split a few days earlier. Hendrix then proceeded to continuing jamming, running over their allocated time slot on the live show, preventing the show's host Lulu from closing the show properly.

1972 - Two weeks of rehearsals for Pink Floyd's The Dark Side of The Moon tour began at the Bermondsey in London (the venue was owned by The Rolling Stones).

1976 - Bob Dylan's song, 'Hurricane', peaked at No.33 on the Billboard singles chart, helping to cause enough publicity to eventually get former boxer Rubin 'Hurricane' Carter released from jail. The song promoted Carter's innocence and a movie about Carter's life, starring Denzel Washington, was released in 2000.

1981 - David Bowie made his final appearance as the Elephant Man at The Booth Theatre, Broadway in New York City.

2002 - Zak Foley bassist with British group EMF died aged 31 of a drug overdose. EMF had the 1990 world wide hit single 'Unbelievable' which reached No.3 on the singles chart. The name EMF is believed to be an abbreviation of Epsom Mad Fuckers.

2017 - Vinyl sales topped three million last year, the highest UK total in 25 years. More than 3.2 million records were sold in 2016, a rise of 53% on the previous year, according to the BPI, which represents the music industry. David Bowie's Blackstar was the most popular album on vinyl, selling more than double the number of copies of 2015's biggest-seller, Adele's 25.

1926 - The first issue of The Melody Maker went on sale priced at 3d. The monthly magazine was for 'all who are interested in the production of popular music'. In the first issue, Dance Band news, a feature on Ukuleles and how to read music by sight. Advertisements in Melody Maker helped assemble the line-ups of a number of major bands, including The Jimi Hendrix Experience, Supertramp and The Stranglers.

1969 - Led Zeppelin played the first of four nights at the Whisky A Go-Go, Los Angeles during the bands first North American tour. Support group was the Alice Cooper band.

1969 - Filming began at Twickenham studios of The Beatles rehearsing for the 'Let It Be' album. The project ran into several problems including George Harrison walking out on the group on January 10th.

George Harrison album 'All Things Must Pass' started a seven week run at No.1 on the US album chart, making Harrison the first solo Beatle to score a US No.1 album. The triple album included the hit singles 'My Sweet Lord' and 'What Is Life', as well as songs such as 'Isn't It a Pity' and the title track that were turned down by The Beatles.

1980 - US singer Larry Williams was found dead from a gunshot wound to his head in his Los Angeles, California home aged 45. Williams had the 1957 US No.5 & UK No. 21 single 'Short Fat Fannie.' Also known for 'Bony Moronie' and 'Dizzy Miss Lizzy.' The Beatles, Rolling Stones, Dr. Feelgood, Flying Burrito Brothers, Johnny Winter, Little Richard, The Who, Ritchie Valens and Bill Haley & His Comets all covered his songs.

1994 - Meat Loaf started a three-week run at No.1 on the album chart with his sixth studio album Bat Out Of Hell II - Back Into Hell. The LP, which featured the single 'I'd Do Anything for Love', also topped the charts in the US and Australia and has sold more than 14 million copies world-wide.

1997 - Guitarist Randy California from US group Spirit drowned when rescuing his 12-year old son when he was sucked into a riptide in surf off Hawaii.

2007 - Cristin Keleher who once broke into former Beatle George Harrison's Hawaii home was found dead after an apparent murder-suicide in California, aged 34. She made headlines in December 1999 by entering Harrison's Maui estate and then cooking herself a frozen pizza. Police said her body had been found with that of a 48-year-old man in a car, both had gunshot wounds to their heads.

2009 - According to official US sales figures AC/DC were the biggest sellers of 2008 with over 3.4m sales. To promote the groups latest album Black Ice, Columbia Records created "Rock Again AC/DC Stores" as well as "Black Ice" trucks which were dispatched on the streets of New York and Los Angeles playing AC/DC music aloud and making various stops each day to sell merchandise.

1953 - American singer-songwriter and musician singer Hank Williams died of a heart attack aged 29, brought on by a lethal cocktail of pills and alcohol. Williams is regarded as one of the most important country music artists of all time.

1962 - The Beatles auditioned for Decca Records in West Hampstead, London. A&R boss at Decca Dick Rowe turned them down in what is considered one of the biggest mistakes in music industry history. Decca decided to reject the band, selecting instead Brian Poole and the Tremeloes.

1967 - The Doors made their first live television appearance lip-synching their first single 'Break on Through' on Shebang, KTLA-TV Channel 5 in Los Angeles. The single peaked No. 126 on the US chart mainly due to lack of airplay after censors objected to the drug use implied by the line "she gets high", which is repeated in the middle section of the song.

1969 - Marmalade were at No.1 on the singles chart with their version of The Beatles song 'Ob-La-Di Ob-La-Da', which features on The White Album.

1977 - Genesis played the first of three nights at the new-look Rainbow Theatre, London, tickets cost £2.50. The theatre had been completely renovated at a cost of £80,000.

1977 - The Clash played the opening night at punk's first real venue, The Roxy Club in London.

1984 - Alexis Korner died of lung cancer aged 55. Know as "the Founding Father of British Blues", he was a major force behind the early 60s R&B scene. Formed Blues Incorporated; members at various times included Jack Bruce, Ginger Baker, Long John Baldry, Graham Bond and Charlie Watts. Had hits with CCS, including a version of Led Zeppelin's 'Whole Lotta Love' which was used as the theme for Top Of The Pops for several years. He became a radio presenter in the Seventies.

1990 - New American radio station WKRL in Florida played the Led Zeppelin track 'Stairway To Heaven' for 24 hours, as a prelude to an all Zeppelin format.

2002 - Eric Clapton married 25-year old Melia McEnery the mother of his baby daughter at a secret ceremony at the 15th Century St Mary Magdalen Church in Ripley, Surrey.

2011 - Chuck Berry cut short a concert at Congress Theater, Chicago, Illinois after collapsing on stage an hour into the show. Berry slumped over a keyboard and did not move for a couple of minutes before being helped off stage, he returned 15 minutes later only to be forced off again almost immediately. The 84 year-old later re-emerged on stage but told fans he had no strength to continue performing.

2013 - Ultravox's 1981 hit 'Vienna' was voted the UK's favourite number two single. The song topped a poll by BBC Radio 2 and the Official Charts Company to find the greatest track to miss out on the number one spot. Vienna was held off by novelty track 'Shaddup You Face' by Joe Dolce. 'Fairytale of New York' by The Pogues and Kirsty MacColl was voted into second place. Other songs to feature included The Beatles 'Penny Lane/Strawberry Fields Forever', The Who's 'My Generation' and Don McLean's 'American Pie'.

1962 - During his first visit to the UK Bob Dylan played at the King And Queen pub in London. Dylan had arrived in the UK on 17th Dec after British TV director Philip Saville had heard Dylan perform in Greenwich Village, and had invited him to take part in a BBC television drama: The Madhouse On Castle Street.

1963 - The Kinks made their live debut when they played at the Lotus House Restaurant, London. Now recognised as one of the most important and influential rock acts of the era, brothers Ray Davies and Dave Davies remained members throughout the group's 32-year run.



1967 - American songwriter and producer Bert Berns died of heart failure aged 38. He wrote many classic songs including 'Twist And Shout', 'Hang On Sloopy', 'Here Comes the Night', 'I Want Candy', 'Under the Boardwalk', 'Everybody Needs Somebody to Love' and 'Brown Eyed Girl'.

1970 - Paul McCartney filed a suit against the rest of The Beatles to dissolve their partnership. According to the court documents, McCartney's main reason for wanting to legally break up the group stemmed from the decision taken by the others to to appoint Rolling Stones manager Allan Klein as their manager. McCartney didn't trust Klein and had wanted his new in-laws, Lee and John Eastman, to look after their affairs. The suit took more than four years of court hearings, with the group officially disbanding in January 1975.

1973 - Australian band AC/DC made their live debut when they appeared at Chequers Bar in Sydney.

1979 - David Bowie performed an acoustic version of 'Space Oddity' on the 'Kenny Everett New Year's Show'. .

1999 - The Manic Street Preachers performed to 57,000 fans at the Millennium Stadium, Cardiff. The Guinness Book of Records confirmed that the concert set a new record as the biggest indoor show ever staged in Europe, tickets £30.

2003 - Kevin MacMichael, guitarist with Cutting Crew died of lung cancer aged 51 (1987 US No.1 & 1986 UK No.4 single 'I Just Died In Your Arms Tonight'). Also worked with Robert Plant and The Rankin Family.

Week Commencing December 23
1963 - The Rolling Stones performed at Studio 51 in Soho, London, on the same bill as Jimmy Powell and the Five Dimensions, who featured a young Rod Stewart. The Stones played a regular Sunday afternoon gig at the club from 4pm until 6.30pm and were billed as Rhythm and Blues with The Rolling Stones.

1966 - Pink Floyd and Soft Machine appeared at the Blarney Club, London.

1968 - Led Zeppelin (who were advertised as Len Zefflin), appeared at Gonzaga University Gymnasium, Spokane on their first North American tour supporting Vanilla Fudge.

1969 - Peter Tork quit The Monkees, buying himself out of his contract which left him broke. He went on to form a group called Release and played banjo on George Harrison's soundtrack to the film Wonderwall.

1998 - American rhythm and blues singer Johnny Moore who was lead singer for The Drifters on their 1960s hit 'Under The Boardwalk', died at the age of 64. Moore began as lead singer of the Cleveland based group the Hornets, before being discovered by the Drifters. He joined the group as lead vocalist in New York in 1955, at age 21. Moore also sang lead on the hits 'Saturday Night At The Movies', 'Come On Over To My Place' and 'Up In The Streets Of Harlem'.

1999 - George Harrison and his wife Olivia were attacked when an intruder broke into their home in Henley-on-Thames, Oxfordshire. Olivia beat off the attacker with a poker and heavy lamp. Harrison who was stabbed in the chest was admitted to hospital and treated for a collapsed lung and various minor stab wounds. His wife, Olivia, was treated for cuts and bruises she had suffered in the struggle with the intruder. Police later arrested Michael Abram from Liverpool who had nursed an irrational obsession with The Beatles.

1999 - In the Queen's Millennium Honours list, former Slade singer Noddy Holder was awarded an MBE and guitarist Mark Knopfler was awarded an OBE.

2002 - The funeral of former Clash singer and guitarist Joe Strummer took place in London. Strummer had died of a suspected heart attack on 22nd Dec 2002 aged 50.

2014 - The woman who inspired Pulp's hit song 'Disco 2000' died shortly after being appointed an MBE. Deborah Bone, from Hertfordshire was a childhood friend of lead singer Jarvis Cocker in Sheffield. She was diagnosed with cancer in 2013. The 1995 Britpop hit contains the lyric: "Your name is Deborah. Deborah. It never suited ya."

2016 - Allan Williams the first manager of The Beatles died at the age of 86. Williams worked with The Beatles from 1960 to 1961, getting the band gigs in Britain and Hamburg. Williams personally drove the van to take the Beatles to Hamburg in 1960, which didn't have seats; The Beatles had to sit on their amplifiers in the back of the van.

1966 - Working at Abbey Road studios, Paul McCartney began work on his new song 'Penny Lane', recording six takes of keyboard tracks and various percussion effects. The song's title is derived from the name of a street near John Lennon's house, in the band's hometown, Liverpool. McCartney and Lennon would meet at Penny Lane junction in the Mossley Hill area to catch a bus into the centre of the city.

1966 - The Jimi Hendrix Experience made their debut on Top Of The Pops performing 'Hey Joe'.



1967 - British guitarist and singer Dave Mason quit Traffic after differences of musical opinion. Mason wrote 'Hole in My Shoe', a psychedelic pop song that became a hit in for Traffic in 1967.

1973 - Jim Croce scored his second No.1 US single of the year when 'Time In A Bottle' went to the top of the charts. Croce was killed in a plane crash on the way to a concert on September 20th 1973.

1980 - American singer, songwriter Tim Hardin died of a heroin overdose. Hardin wrote the songs 'If I Were A Carpenter' (covered by Bobby Darin, Johnny Cash and June Carter, The Four Tops, Leon Russell, Small Faces, Robert Plant and Bob Seger) and 'Reason To Believe' (covered by Rod Stewart). Hardin appeared at Woodstock.

1999 - Three ferrets named Beckham, Posh Spice and Baby Spice were used to lay power cables for a rock concert being held in Greenwich, London, England, (workers were not allowed to dig up the turf at the Royal Park). Organizers found that rods could not push the cables through the tiny tunnels, which frequently bend and dog-leg. The ferrets were eased into tiny nylon harnesses with wires which where then attached to a rope, the animals ran into a series of ducts which were under the stage like rabbit runs, leading the cables with them. The ferrets instinctively make for any hole in the ground and are enticed to the end of the duct by a slab of smelly meat. The New Years Eve concert featured Simply Red, Eurythmics and Bryan Ferry.

2013 - American guitarist, drummer, and songwriter Benjamin Curtis died age 35. He was a founding member of the bands Secret Machines, School of Seven Bells, and UFOFU. He was also drummer for the band Tripping Daisy from 1997 to 1999. It was announced in late February 2013 that he had been diagnosed with T-cell lymphoblastic lymphoma.

1963 - The music critics from The Times named John Lennon and Paul McCartney as The Outstanding Composers of 1963. Two days later, the Sunday Times' music critic Richard Buckle proclaims the same two songwriters "the greatest composers since Beethoven."

1969 - Led Zeppelin II was at No.1 on the album charts (the band's first album to reach No.1 on charts in the UK and the US), it went on to sell over six million copies in the US alone. The album's cover designer David Juniper was nominated for a Grammy Award for Best Recording Package.

1975 - Queen started a two-week run at No.1 with A Night At The Opera, the group's first No.1 album.



1975 - The Faces split became official. Rod Stewart had severed all connections with the group to work as a solo artist, Ronnie Wood was on permanent loan to the Stones, Ronnie Lane went on to form Slim Chance and drummer Kenny Jones joined The Who.

1978 - American singer, songwriter and guitarist Chris Bell from Big Star was killed after his car crashed into a telephone pole, he was 27. Bell inspired the likes of Beck, R.E.M., Teenage Fanclub, Primal Scream, Wilco, The Posies and The Replacements, all of which have covered his music or name-dropped Big Star in the press.

1983 - Walter Scott lead singer of Bob Kuban & The In-Men, who scored a 1966 US hit with 'The Cheater', went missing this year. On April 10th, 1987, his badly decomposed, bound body was found floating face down in a cistern, he'd been shot in the back. Scott's second wife, Jo Ann Calceterra, pleaded guilty to hindering prosecution in his murder and received a five-year sentence. Her boyfriend (whom she married in 1986), James H. Williams Sr. was found guilty of two counts of capital murder in the deaths of Walter Scott as well as his previous wife, Sharon Williams. James Williams received two life terms.

1965 - While spending Christmas at his father's home in Cheshire, Paul McCartney crashed from the moped he was riding and suffered a five-inch cut to his mouth.

John Lennon appeared as a men's room attendant in Peter Cook and Dudley Moore's show 'Not only... But also'.

1966 - The Jimi Hendrix Experience played an afternoon show at The Uppercut Club, London (where he was billed as "The American Top soul Singer - Jimi Hendrix"). Hendrix also wrote the lyrics to Purple Haze in the dressing room on the same day.

1967 - BBC Television broadcast The Beatles movie 'Magical Mystery Tour' in black and white. The next day, the British press and the viewing public pronounce the film an utter disaster. The negative reaction was so strong that a US television deal for broadcasting the movie was cancelled.

1968 - Led Zeppelin started their first North American tour supporting Vanilla Fudge and Spirit at Denver Auditorium, Colorado, tickets for this Sunday night gig cost $5.

1970 - George Harrison started a four week run at No.1 on the US singles chart with 'My Sweet Lord', making him the first Beatle to score a No.1 US hit. The song was originally intended for Billy Preston.

1976 - The Sex Pistols recorded 'God Save The Queen' at Wessex Studios London. The song was released during Queen Elizabeth II's Silver Jubilee in 1977. The record's lyrics, as well as the cover, were controversial at the time, and both the BBC and the Independent Broadcasting Authority refused to play the song. The song reached No.1 on the NME charts. It is also widely believed that the BBC erroneously claimed that Rod Stewart was No.1 on their own charts so they could get out of playing God Save the Queen on Top of The Pops.

1979 - The first night of a series of concerts were held at The Hammersmith Odeon in London for the People of Kampuchea, featuring Queen, The Clash, The Pretenders, The Who, Elvis Costello, Wings, and many more artists. The events which were organised by Paul McCartney and Kurt Waldheim were aimed to raise money for the victims of war-torn Cambodia.

1979 - Pink Floyd's The Wall was at No.1 on the album chart.

1981 - AC/DC started a three-week run at No.1 on the US album chart with 'For Those About To Rock We Salute You' the follow-up to their highly successful album 'Back In Black'. The name of the album was inspired by a book Angus Young read, entitled 'For Those About to Die, We Salute You', about Roman gladiators.

2017 - Jim Burns, the co-creator of MTV's iconic MTV Unplugged series, famous for hosting shows by artists as diverse as Eric Clapton, Nirvana and Jay-Z died at the age of 65. He was struck by a taxi while crossing Fifth Avenue in Manhattan three days earlier walking with his seeing-eye dog near his Upper East Side home.


Johnny Ace shot himself dead backstage at the City Auditorium in Houston, Texas. The R&B singer was playing with a revolver during a break between sets, someone in the room said "Be careful with that thing'' and he said "It's OK the gun's not loaded, see" and pointed it at himself with a smile on his face.

1978 - John Lydon's new group Public Image Ltd played their first live gig at the Rainbow Theatre, London.

1998 - Bryan MacLean, guitarist with Love, died of a heart attack aged 62 while having Christmas dinner with a young fan who was researching a book about the band. Love had the 1966 US No.33 single '7 And 7 Is', and the 1968 album Forever Changes.

2006 - James Brown the 'Godfather of Soul', died at the age of 73 after being diagnosed with severe pneumonia. Brown went to his dentist in Atlanta the previous day who told him something was wrong, and sent him to a doctor immediately. His hits included 'Papa's Got a Brand New Bag', 'I Got You (I Feel Good)', and 'Get Up (I Feel Like Being A) Sex Machine, Pt. 1'. Brown was married four times. At the age of 16 was arrested for theft and served 3 years in prison. In 1988 Brown was arrested following a high-speed car chase along the Georgia-South Carolina state border.

2009 - Tony Bellamy guitarist, pianist and vocalist for the Native American rock band Redbone died of liver failure. Redbone had the 1971 No.2 single 'The Witch Queen Of New Orleans' and the 1974 US No. 4 hit single, 'Come and Get Your Love.' Redbone are accredited in the NY Smithsonian as the first Native American rock/Cajun group to have a No.1 single in the United States and internationally. Bellamy had performed with Dobie Gray, and was a member of Peter and the Wolves (a band from San Francisco that evolved into the psychedelic band Moby Grape).

2016 - George Michael died at his home aged 53. Thames Valley Police said South Central Ambulance Service attended a property in Goring in Oxfordshire at 13:42 GMT. The singer who launched his career with Wham! in the 1980s and later continued his success as a solo performer, was said to have "passed away peacefully at home". Up to the time of his death, Michael sold more than 115 million records worldwide, making him one of the best-selling music artists of all time.

1972 - On the second UK leg of his 182 date Ziggy Stardust Tour, David Bowie played the second of two nights at the Rainbow Theatre, London. This tour had the classic Spiders From Mars line up of Mick Ronson on guitar, vocals, Trevor Bolder, bass and Mick "Woody" Woodmansey on drums.

1977 - The Sex Pistols played their last ever UK gig (until 1996), before splitting, at Ivanhoes in Huddersfield. It was a charity performance before an audience of mainly children.

1988 - American glam metal band Poison started a three-week run at No.1 on the US singles chart with 'Every Rose Has Its Thorn.' (and as every pedant knows, Roses don't have thorns)

Jack White of The White Stripes turned himself in to Detroit police to face aggravated assault charges stemming from a bar room altercation in which he allegedly attacked Jason Stollsteimer of The Von Bondies. White was also fingerprinted and formally booked on the charges before he was released on bail.

2016 - Status Quo guitarist Rick Parfitt died in hospital in Marbella, Spain aged 68. He died from a severe infection after going to hospital following complications to a shoulder injury. His partnership with Francis Rossi became the core of Status Quo, one of Britain's most enduring bands. The band had over 60 chart hits - more than any other rock band, including "Pictures of Matchstick Men" in 1967. In July 1985 the band opened Live Aid at Wembley Stadium with "Rockin' All Over the World".

Week Commencing December 16
1959 - Chuck Berry was arrested after taking 14 year old Janice Norine (who unbeknown to Berry was working as a prostitute), across a state line. He was sentenced to 5 years jail but after racist comments by the judge Berry was freed.

1966 - ITV (Redifusion) broadcast Ready, Steady Go! for the last time, after the Musicians Union enforced a ban on miming. The special guests for the farewell show were Mick Jagger, The Who, Eric Burdon, The Spencer Davis Group, Donovan and Dave Dee, Dozy, Beaky, Mick and Tich.

1972 - Former Grand Funk Railroad manager Terry Knight arrived during a concert by the band with a court order to seize $1m in money or assets. Police inform the ex manager that he couldn't take anything until after the show.

1985 - Judas Priest fans Raymond Belknap and James Vance shot themselves after listening to the Judas Priest album 'Stained Class.' The two had drunk beer, smoked marijuana and then listened to hours of the album. Afterwards they took a shotgun to a nearby school playground where Belknap shot and killed himself. Vance then blew away his jaw, mouth and nose but lived for more than three years before dying of effects of the shooting.

2005 - Geezer Butler, the bass player with Black Sabbath offered £5,000 for any information leading to the safe return of Toga, the three-month-old penguin that had been stolen from a zoo on the Isle of Wight a few days earlier.

Honey Lantree drummer with pop group The Honeycombs died aged 75. The Honeycombs scored the Joe Meek produced 1964 No.1 single 'Have I The Right', which featured Lantree who was one of the few female drummers in bands at that time. The song's beat was enhanced by having the members of the group stamp their feet on the wooden stairs to the studio to add to the drum sound.

1962 - Acker Bilk's 'Stranger On The Shore' finally dropped off the UK charts after 55 weeks. That record would stand until 1968 when Engelbert Humperdinck's 'Release Me' stayed for 56. The current record is held by Frank Sinatra's 'My Way', which charted for 75 non-consecutive weeks.

The Jimi Hendrix Experience, Pink Floyd, The Who, Keith West and Tomorrow, Eric Burdon & The Animals, 1984 (featuring future Queen guitarist Brian May) and Soft Machine all appeared at The Olympia, London at an all night festival 'Christmas On Earth Continued'. The DJ was John Peel plus the venue featured a paddling pool, light shows and a movie theatre, tickets £1.

1973 - Elton John started a two-week run at No.1 on the album chart with 'Goodbye Yellow Brick Road', it also had a eight week run at No.1 on the US chart. The album contains the Marilyn Monroe tribute, 'Candle in the Wind', as well as three successful singles: 'Bennie and the Jets', 'Goodbye Yellow Brick Road', and 'Saturday Night's Alright for Fighting'.

1987 - Nikki Sixx from Motley Crue was pronounced 'dead on arrival' in an ambulance when his heart stopped beating for two minutes. Sixx was given two shots of adrenaline in his chest to revive him. Fellow band members were prematurely informed of his death.

2002 - Former Clash singer and guitarist Joe Strummer (John Graham Mellor) died of a suspected heart attack aged 50. Scored the 1979 No. 11 single 'London Calling', 1991 No.1 single 'Should I Stay Or Should I Go', first released 1982, plus 15 other Top 40 singles. The Clash's London Calling album was voted best album of the 1980s by Rolling Stone magazine. Strummer was also a member of the The Mescaleros.

2008 - A cassette tape of a "drunk" John Lennon recording a cover version of a rock 'n' roll song sold at auction in Los Angeles for $30,000 (£20,200). The six-minute recording, made in autumn 1973, is of Lennon performing Lloyd Price's Just Because. "Debauched lyrics" improvised by "a drunk Lennon" include "just a little cocaine will set me right", and, "I wanna take all them new singers, Carol and the other one with the nipples, I wanna take 'em and hold 'em tight."

2010 - The Abbey Road zebra crossing in north London, made famous after appearing on a Beatles album cover was given Grade II listed status. The crossing, the first of its kind to be listed, was being recognised for its "cultural and historical importance" following advice from English Heritage. The Beatles were photographed on Abbey Road in Ian Macmillan's iconic cover shot for the 1969 album Abbey Road.

2014 - Joe Cocker died of lung cancer in Crawford, Colorado aged 70. The Sheffield-born singer was known for his gritty voice, spasmodic body movement in performance and definitive versions of popular songs of varying genre. Cocker had a career lasting more than 40 years, with hits including his cover of The Beatles' 'With A Little Help From My Friends', 'You Are So Beautiful' and 'Up Where We Belong'. He was made an OBE in 2011. In the early Sixties Cocker was performing as Vance Arnold. The name was a combination of Vince Everett, Elvis Presley's character in Jailhouse Rock (which Cocker misheard as Vance); and country singer Eddy Arnold.

1967 - Buffalo Springfield appeared at the Community Concourse, San Diego, California. The group became a springboard for the careers of Neil Young, Stephen Stills, Richie Furay and Jim Messina.

1968 - During a UK tour Led Zeppelin appeared at The Civic Hall, Exeter, supported by The Empty Vessels, featuring Martin Turner and Steve Upton who later formed Wishbone Ash. Zeppelin were paid £125 for the gig.

1970 - Elton John's first US hit, 'Your Song' entered the Billboard Hot 100, where it went on to reach number eight. The Hollies had been offered the song and Three Dog Night had already recorded a version which was included on their 'It Ain't Easy' album.

1979 - Elvis Presley's personal physician, George Nichopoulos, was charged with 'illegally and indiscriminately' prescribing over 12,000 tablets of uppers, downers, and painkillers for the star during the 20 months preceding his untimely death. Although he was acquitted this time, he was charged again in 1980 and again in 1992 and was stripped of his medical license in July 1995.



1991 - Joe Cole, an American roadie for Black Flag and Rollins Band, was shot and killed in an armed robbery. Cole and Henry Rollins had attended a Hole concert at the Whisky a Go Go and were returning home after having stopped at an all-night grocery store when two armed men – described as black in their 20s – approached them demanding money. Angry that Rollins and Cole had only $50 between them, the gunmen ordered the two men to go inside their house for more cash. Rollins entered at gunpoint. However, Cole was killed outside after being shot in the face at close range while Rollins escaped out the back door and alerted the police. The murder remains unsolved. Cole is remembered in the Sonic Youth songs 'JC' and '100%' on their album Dirty.

1993 - Michael Clarke drummer with The Byrds died of liver failure aged 47. Also worked with the Flying Burrito Brothers and Jerry Jeff Walker. Before his death Clarke had expressed a wish of alerting children to the dangers of alcoholism. Following his wishes, Clarke's girlfriend Susan Paul started a foundation in Clarke's name, called the Campaign for Alcohol-free Kids.

1994 - The Manic Street Preachers played the first of three nights at The Astoria, London, the last shows Richey Edwards made with the band before disappearing. Edwards vanished on February 1st 1995 leaving no clues to his whereabouts.

2000 - 10,000 Maniacs guitarist Robert Buck died of liver failure aged 42. Best know for 'Hey Jack Kerouac', 'What's The Matter Here' and 'Candy Everybody Wants'.

2006 - Two giant eyeballs donated by Pink Floyd raised £16,500 for the homeless charity Crisis. The 6ft-high props, made to promote the Pulse DVD, were on the auction site eBay for a week and attracted 46 bids. Pink Floyd's David Gilmour, a vice-president of Crisis, said extra help was needed in the winter months.

1962 - On their fifth visit to West Germany The Beatles played the first night of a two-week engagement at the Star-Club, Hamburg. A 13 night run, playing 3 hours each night. The final night's performance was recorded and became known as 'The Star-Club Tapes', released in 1977 against the wishes of the ex-Beatles themselves.

1966 - Tara Browne was killed when driving at high speed in his Lotus Elan after it collided with a parked lorry in South Kensington, London. A close friend of The Rolling Stones Mick Jagger and Brian Jones, his death was immortalized in The Beatles song 'A Day In The Life' after John Lennon read a report on the coroner's verdict into Browne's death.

1971 - T. Rex scored their first No.1 album with their sixth release 'Electric Warrior'. The album which became the biggest seller of the year contained two of T. Rex's most popular songs, 'Get It On' and 'Jeepster.'

1983 - American guitarist Jimmy Nolan died of a heart attack in Atlanta, Georgia, aged 47. Known for his distinctive 'chicken scratch' lead guitar playing, he worked with James Brown from 1965 until his death.

Kirsty MacColl was killed in a boating accident off the coast of Mexico when a speedboat hit her. MacColl, 41, and her sons were diving at the Chankanaab reef, off Cozumel, Mexico in a designated diving area that watercraft were restricted from entering. MacColl saw the boat coming before her sons did; Louis (then 13) was not in the boat's path, but Jamie (then 15) was. She was able to push him out of the way (he sustained minor head and rib injuries) but in doing so she was hit by the boat and killed instantly.

2013 - Lostprophets singer Ian Watkins was sentenced to 35 years in jail for a string of child sex offences. Watkins, 36, from Pontypridd, Wales, had pleaded guilty at Cardiff Crown Court last month to 13 child sex offences.

2015 - A US medical examiner said Stone Temple Pilots frontman Scott Weiland died from a toxic mix of drugs including cocaine, alcohol and ecstasy. Weiland, who was 48, rose to fame with the Stone Temple Pilots was found dead on his tour bus outside a hotel in Bloomington, Minneapolis, on 3 December of this year.

1963 - James Carroll at WWDC in Washington, DC, became the first disc jockey to broadcast a Beatles record on American radio. Carroll played 'I Want To Hold Your Hand', which he had obtained from his stewardess girlfriend, who brought the single back from the UK. Due to listener demand, the song was played daily, every hour. Since it hadn't been released yet in the States, Capitol Records initially considered court action, but instead released the single earlier than planned.

1968 - The Who played their Xmas party at the The Marquee Club London. Also on the bill was a new group called Yes. Members 15 shillings, or £1 on the night. Other acts appearing at the club this month included Joe Cocker, Free and Led Zeppelin.

1971 - David Bowie released his fourth album Hunky Dory, which was the first to feature all the members of the band that would become known the following year as Ziggy Stardust's Spiders From Mars. Two singles were released from the album: 'Changes' / 'Andy Warhol' in January 1972 and 'Life on Mars' which was released late June 1973. Bowie himself considered the album to be one of the most important in his career.

1973 - Slade were at No.1 on the singles chart with 'Merry Xmas Everybody' their sixth chart topper. It has been released during every decade since 1973, and has been covered by numerous artists. In a 2007 poll, 'Merry Xmas Everybody' was voted the UK's most popular Christmas song.

Big Joe Williams died in Macon, Mississippi aged 79. Wrote 'Baby Please Don't Go', a 1965 Top 10 for Them (featuring Van Morrison).

2010 - Captain Beefheart died aged 69 from complications from multiple sclerosis. The American musician, singer-songwriter, artist and poet born Don Glen Vliet in Glendale, California recorded 13 studio albums.

2010 - Sir Paul McCartney performed an intimate lunchtime gig at the 100 Club on London's Oxford Street, the historic music venue threatened with closure. Around 300 fans were treated to a set lasting almost two hours, in what was McCartney's smallest gig in the UK for nearly 10 years. A campaign to keep the 100 Club open had attracted support from Primal Scream's Bobby Gillespie and Sir Mick Jagger.

2015 - A London judge said he was concerned at how much Liam Gallagher and his ex-wife Nicole Appleton were spending in a legal dispute over how their assets should be split after it was revealed that the pair had spent over £800,000 on legal fees. Judge O'Dwyer decided their money and property should be divided equally, with each receiving £5.4m. (which reminds me of that joke: "What do you call 500 lawyers at the bottom of the ocean?" - "Not enough".)

Jimi Hendrix Experience single 'Hey Joe', was released on Polydor records, the track had been rejected by the Decca label. It went on to be a No.6 hit in the UK, but failed to chart in America. Chas Chandler, who was now managing Hendrix had seen Folk singer Tim Rose perform the song at the Cafe Wha? in New York City.

1971 - Frank Zappa's '200 Motels' film opened at London's Piccadilly Classic Cinema. The film which also featured Ringo Star, covers a loose storyline about The Mothers of Invention going crazy in the small town Centerville.

2001 - Scottish guitarist, vocalist, and songwriter Stuart Adamson, lead singer of Big Country was found dead in Hawaii a month after disappearing from his home. His body was found in a closet in his room at the Best Western Plaza Hotel in Honolulu. The 43-year musician had fought a long battle against alcoholism. Adamson had been due to face drunk-driving charges in March 2002 and had been ordered to attend Alcoholics Anonymous. Adamson founded Scottish art-punk band Skids in 1977 and in the 1990s he founded alternative country rock act The Raphaels.

2005 - The surviving Beatles and relatives of the band's late members began legal action against EMI to get royalties allegedly worth £30m. Paul McCartney, Ringo Starr and relations of George Harrison and John Lennon claimed EMI owed record royalties to their company Apple Corps.

Week Commencing December 9
1943 - American jazz pianist, organist, composer, singer, and comedic entertainer Fats Waller died of pneumonia on a train trip near Kansas City, Missouri. Waller wrote many songs including 'Ain't Misbehavin', 'Your Feet's Too Big' and 'The Reefer Song'. In 1926 Waller was kidnapped at gunpoint in Chicago and driven to a club owned by gangster Al Capone. Inside the club he was ordered to perform at what turned out to be a surprise birthday party for the gangster. He enjoyed success touring the UK and Ireland in the 1930s, appearing on one of the first BBC television broadcasts on September 30, 1938.

1977 - The Sex Pistols were refused entry into the USA two days before a scheduled NBC TV appearance. Johnny Rotten because of a drugs conviction, Paul Cook & Sid Vicious because of 'moral turpitude' and Steve Jones because of his criminal record.

1979 - Pink Floyd started a five week run at No.1 on the singles chart with 'Another Brick In The Wall (Part 2)' their only UK chart topper. The song, which was also the final No.1 single of the 1970s, received a Grammy nomination for Best Performance by a Rock Duo or Group, but Floyd lost to Bob Seger's Against the Wind.

1984 - Do They Know It's Christmas? by Band Aid entered the chart at No.1 and stayed at the top for five weeks. It became the biggest selling UK single of all time with sales over 3 and a half million. Band Aid was masterminded by former Boomtown Rats singer Bob Geldof, who had been moved by a TV news story of famine in Ethiopia. Geldof had the idea of raising funds with a one-off charity single featuring the cream of the current pop world. Duran Duran, Spandau Ballet, Paul Young, Culture Club, George Michael, Sting, Bono, Phil Collins, Paul Weller, Francis Rossi and Rick Parfitt of Status Quo and Bananarama all appeared on the recording.

2010 - Various Pink Floyd items were sold at an Entertainment Memorabilia auction by Bonhams in Knightsbridge London. A demo pressing of the single 'Point Me To The Sky/Careful With That Axe Eugene' sold for £720. Pink Floyd signatures, in various blue marker pens on four separate pieces of paper mounted and framed together with a copy of 'Dark Side Of The Moon' sold for £624.00 and a demo pressing of the single by Syd Barrett 'Octopus' / 'Golden Hair' from 1969, misspelt 'Barratt' corrected in ink on A-side, sold for £300.

1955 - Dickie Valentine was at No.1 on the singles chart with 'Christmas Alphabet', the first Christmas song to reach the No.1 position. It was the first Christmas No.1 that was actually about Christmas, a trend that would continue off and on over the next several decades.

1966 - Jimi Hendrix made his TV debut on ITV's 'Ready Steady Go!' (Marc Bolan was also on the show). The Jimi Hendrix Experience also recorded 'Foxy Lady' on this day. The United States version of Are You Experienced listed the song with a spelling mistake as 'Foxey Lady' and this is how it is still known among many North American fans.

1970 - Dave Edmunds was at No.1 on the singles chart with his version of the 1955 Smiley Lewis hit 'I Hear You Knocking.' The Welsh singer, songwriter and producers only No.1 hit.

Patti Smith released her debut studio album Horses. Produced by John Cale, Horses has since been viewed by critics as one of the greatest and most influential albums in the history of the American punk rock movement, as well as one of the greatest albums of all time. Horses has also been cited as a key influence on a number of acts, including Siouxsie and the Banshees, The Smiths, R.E.M. and PJ Harvey.

2000 - It was announced that after 74 years the rock weekly Melody Maker was to close down. The Christmas edition would be the last one then it would merge with the NME creating a more sizeable broad-based magazine.

2001 - American singer, songwriter, and guitarist Chuck Schuldiner died of brain cancer. He founded the pioneering band Death in 1983. Schuldiner is often referred to as "The Godfather of death metal". Death's best-selling album is the 1991 release Human.

2012 - A collection of love letters written by Mick Jagger to American singer Marsha Hunt sold at auction for £187,250. The letters were penned in the summer of 1969 while The Rolling Stones frontman was in Australia. They are believed to be the inspiration for the band's hit single 'Brown Sugar'.

1970 - Smokey Robinson and the Miracles started a run at No.1 on the singles chart with 'Tears Of A Clown'. It was the group's 26th Top 40 hit and first No.1. The song was written by Stevie Wonder in 1966, and his producer Hank Cosby, Smokey Robinson wrote the lyrics.

1970 - The Doors played what would be their last ever live show with Jim Morrison when they played at the Warehouse in New Orleans.

Ian Stewart died of a heart attack in his doctor's Harley Street waiting room. Co-founder of The Rolling Stones (Stewart was the first to respond to Brian Jones's advertisement in Jazz News seeking musicians to form a rhythm & blues group). Stewart was dismissed from the line-up by the band's manager, Andrew Loog Oldham, in May 1963 but remained as road manager and piano player. He played on all The Rolling Stones albums between 1964 and 1983. Also played piano on Led Zeppelin's 'Rock and Roll' and 'Boogie With Stu' from Physical Graffiti. When the Stones were inducted into the Rock and Roll Hall of Fame in 1989, they asked that Stewart's name be included. "Stu was the one guy we tried to please," said Mick Jagger after he died. "We wanted his approval when we were writing or rehearsing a song." The last word is from Keith Richards autobiography, Life. "Ian Stewart, I'm still working for him. To me, the Rolling Stones is his band."

2008 - The town where Mick Jagger and Keith Richards grew up announced it was to name streets in a new estate after Rolling Stones hits. The 13 streets in Dartford, Kent, were to be given names such as Angie Mews, Babylon Close, Sympathy Street, Little Red Walk and Satisfaction Street. Leader of the council, Jeremy Kite, said he thought Ruby Tuesday Drive sounded a "fantastic" place to live, but police were concerned the street signs might be stolen by fans.

2012 - The Rolling Stones, The Who, Michael Stipe, Chris Martin, Bruce Springsteen and Roger Waters played at Madison Square Garden and raised over $30m (£18.6m) at a benefit gig in New York for those affected by superstorm Sandy which had caused the deaths of 120 people when it hit the Caribbean and US in October of this year. The surviving members of Nirvana, Dave Grohl and Krist Novoselic, also joined Sir Paul McCartney on stage to perform.

1961 - The Beatles agent Sam Leach attempted to introduce the group to London agents by promoting a show at The Palais Ballroom in Aldershot. The show was not advertised properly and, as a result, only 18 people attended (local newspaper The Aldershot News failed to publish the advertisement for the show). However, the band and friends had their own fun after the show, including a mock funeral for Paul McCartney.

1966 - Supergroup Cream released their debut studio album 'Fresh Cream'. The three piece of Eric Clapton, Jack Bruce and Ginger Baker also released their second single 'I Feel Free' on the same day.

1967 - The Doors appeared at the New Haven Arena, New Haven, Connecticut. Before the show a policeman found singer Jim Morrison making out with an 18 year-old girl in a backstage shower and after an argument the policeman sprays mace in Morrison's face. Once on stage Morrison tells the story of the backstage episode and starts taunting the police who drag him off the stage and arrest him. The crowd riots leaving the venue in disarray and many are arrested. Later over 100 protestors gathered at the police station in demonstration and more arrests were made.

1992 - George Harrison was the recipient of the first Century Award, presented by Tom Petty at the third Billboard Music Awards in Universal City, California.

2010 - Eric Clapton announced he was to sell off part of his extensive guitar collection to raise money for his Crossroads rehab Centre in Antigua. Highlights of the sale would include a guitar Clapton played at the Cream reunion shows in 2005, estimated to sell for more than £13,000. The sale to be held by Bonhams in New York would also feature a vast collection of amps and speakers, including a pair of Marshall speaker cabinets.

Week Commencing December 2
1964 - Beach Boy Brian Wilson married Marilyn Rovell in L.A. The couple divorced in 1979. Marilyn and her sister and cousin were in a group, the Honeys, who were produced by Brian Wilson. Marilyn and Brian had two daughters, Carnie and Wendy, who became members of Wilson Phillips.

1967 - The Beatles Apple boutique on 94 Baker Street, London, opened its doors. The store closed seven months later when it fell foul of council objections over the psychedelic mural painted on the outside. All the goods from the shop were given away free to passers by and to people who had queued throughout the night for a chance of getting a free item.

Carl Douglas started a run at No.1 on the singles chart with 'Kung Fu Fighting'. The song was recorded in 10 minutes, had started out as a B-side and went on to sell over 10 million.

1993 - Manic Street Preachers co-manager Phillip Hall died from cancer. Hall was a former Record Mirror journalist and had also worked in PR for Stiff Records. Represented many acts including The Stone Roses, The Pogues, James, The Waterboys, The Beautiful South and Radiohead.

2016 - Greg Lake, who fronted both King Crimson and Emerson, Lake and Palmer, died aged 69 after a battle with cancer. One of the founding fathers of progressive rock, the band combined heavy rock riffs with a classical influence. They scored hit albums with Pictures at an Exhibition, Trilogy and Brain Salad Surgery and Lake had his solo hit 'I Believe in Father Christmas'. Jimi Hendrix considered joining ELP in their earliest incarnation, and if this had happened, the band would've been known as HELP.

2016 - An inquest into the deaths of British band Viola Beach after a crash in Sweden heard that "none of the young men suffered". The four-piece group and their manager, who were aged between 19 and 32, died in the early hours of 13 February 2016, following a gig in Stockholm. Their car crashed into a raised section of a bridge and plummeted into a canal.

1961 - Brian Epstein invited The Beatles into his office to discuss the possibility of becoming their manager. John Lennon, George Harrison and Pete Best arrived late for the 4pm meeting (they had been drinking at the Grapes pub in Matthew Street), but Paul McCartney was not with them, because, as Harrison explained, he had just got up and was "taking a bath".

1965 - Rolling Stone Keith Richards was knocked unconscious by an electric shock on stage at the Memorial Hall In Sacramento, California, when his guitar made contact with his microphone.

1965 - The Who released their debut studio album: My Generation. In the United States it was released by Decca Records as 'The Who Sings My Generation' in April 1966, with a different cover and a slightly altered track listing. In 2003 it was named the second greatest guitar album of all time by Mojo magazine.

1966 - British act The New Vaudeville Band started a three-week run at No.1 on the US singles chart with 'Winchester Cathedral'. A No.4 hit in the UK.

1966 - The Monkees made their live debut at the International Arena, Honolulu. The massive success of the TV series and its spin-off records had created intense pressure to mount a touring version of the group.

1969 - The Rolling Stones recorded 'Brown Sugar' at Muscle Shoals studios. The single went on to be a UK & US No.1. The song was written by Mick Jagger with Marsha Hunt in mind; Hunt was Jagger's secret girlfriend and mother of his first child Karis.

1976 - A giant 40ft inflatable pig could be seen floating above London, after breaking free from its moorings. The pig, nicknamed Algie, was being photographed for the forthcoming Pink Floyd Animals album cover. The Civil Aviation Authority issued a warning to all pilots that a flying pig was on the run. The pig eventually crashed into a barn in Godmersham, Kent, where the farmer complained of his cows being scared by the incident.

1979 - A concert by The Who at The Riverfront Coliseum, Cincinnati, turned to disaster when 11 members of the audience were trampled to death after a stampede to claim unreserved seats, another 26 fans were injured. The concert was using 'festival seating' where seats are available on a first come-first served basis. When the waiting fans outside the Coliseum heard the band performing a late sound check, they thought that the concert was beginning and tried to rush into the still-closed doors.

1986 - Judas Priest were sued by two families, alleging that the band were responsible for their sons forming a suicide pact and shooting themselves. The parents and their legal team alleged that a subliminal message of 'do it' had been included in the Priest song Better By You, Better Than Me from the Stained Class album and alleged the command in the song triggered the suicide attempt. The trial lasted from 16 July to 24 August 1990, when the suit was dismissed.

2001 - American session guitarist Grady Martin died aged 72. He was a member of the legendary Nashville A-Team, playing guitar on hits ranging from Roy Orbison's 'Oh, Pretty Woman', Marty Robbins' 'El Paso' and Loretta Lynn's 'Coal Miner's Daughter'. During a 50-year career, Martin backed such names as Elvis Presley, Buddy Holly, Woody Guthrie, Arlo Guthrie, Johnny Cash, Patsy Cline, Joan Baez and J.J. Cale.

2008 - Composer, keyboardist and arranger Derek Wadsworth died in Oxfordshire. As a musician he worked with Georgie Fame, Alan Price, George Harrison, Mike Oldfield, Diana Ross, Tom Jones, Dionne Warwick, Simply Red. Arranger for David Essex, Dusty Springfield, Nina Simone, Judy Garland, Kate Bush, Cat Stevens, Rod Stewart, Small Faces, The Rolling Stones and Manfred Mann.

2009 - Rolling Stone Ronnie Wood was arrested in Esher, Surrey on suspicion of assault, after a passer-by dialled 999 as a violent argument took place between Wood and his 21-year-old on-off girlfriend Ekaterina Ivanova. He was later cautioned by police.

Week Commencing November 25
1957 - Buddy Holly and the Crickets appeared on 'The Ed Sullivan Show', performing 'That'll Be The Day' and 'Peggy Sue'. Sam Cooke was also a guest on the same show performing 'You Send Me'.

1964 - The Who played the first of 22 consecutive Tuesday night gigs at The Marquee Club in London, the band were paid £50 for each gig. The Marquee Club saw the rise of some of the most important British artists in the 60s such as Jimi Hendrix, David Bowie, Cream, Manfred Mann, The Nice, Yes, Pink Floyd, Jethro Tull, King Crimson and many others who all appeared at the club.

1967 - The Jimi Hendrix Experience released their second studio album Axis: Bold as Love. Hendrix expressed dismay regarding the album cover art, which depicts him and the Experience as various forms of Vishnu, incorporating a painting of them by Roger Law, from a photo-portrait by Karl Ferris. Hendrix stated that the cover would have been more appropriate had it highlighted his American Indian heritage.

1987 - A Kentucky teacher lost her appeal in the US Supreme Court over her sacking after showing Pink Floyd's film The Wall to her class. The court decided that the film was not suitable for minors with its bad language and sexual content.

Ray Gillen died age 34 from an AIDS related disease in a New York Hospital. He was best known for his work with Badlands, in addition to his stint with Black Sabbath in the mid-1980s and recording most of the vocals on Phenomena's Dream Runner album.

2014 - Phil Rudd the drummer of AC/DC pleaded not guilty to charges of threatening to kill and possession of drugs. Rudd was excused from appearing in New Zealand's Tauranga District Court, with his lawyer entering his plea. The 60-year-old Australian-born musician was originally charged with attempting to procure the murder of two men.

1969 - The Monkees made what would be their last live appearance for 15 years when they played at The Oakland Coliseum, California.

1969 - The Rolling Stones played the final night on a 17 date North American tour at the International Raceway Festival, West Palm Beach, Florida. Also appearing, The Moody Blues, Ten Years After, King Crimson, Janis Joplin, The Band, Steppenwolf and Iron Butterfly.

1996 - American singer and ukulele player Tiny Tim (Herbert Khaury) died from a heart attack on stage while playing his hit 'Tiptoe Through the Tulips' at a club in Minneapolis. On 17 December 1969, he married Victoria Mae Budinger on The Tonight Show Starring Johnny Carson, a publicity stunt that attracted over 40 million viewers. They had a daughter, Tulip Victoria. He performed at the 1970 Isle Of Wight Festival in front of a crowd of 600,000 people.

Scott Smith bassist for the Canadian rock band Loverboy died age 45. He was sailing his boat with two friends off the coast of San Francisco near the Golden Gate Bridge, when a large wave swept him overboard. Loverboy were best known for their hit singles 'Working for the Weekend' and 'Turn Me Loose', although their Top Ten hits were 'Lovin' Every Minute of It' in 1985 and 'This Could Be the Night'. Loverboy sold over 23 million records and in 1986 the band won six Juno Awards in 1982. He also later worked as a late-night radio DJ at US station CFOX.

2002 - High Court probate records showed that George Harrison left his fortune of £99m in a trust to his wife Olivia and his son Dhani, depriving the taxman of £40m. His English mansion near Henley-on-Thames was said to be worth £15m.

2003 - A block of East 2nd Street in New York City was officially renamed Joey Ramone Place. It is the block where Joey once lived with band mate Dee Dee Ramone and is near the music club CBGB, where the Ramones played their first gigs. In 2010, it was reported that "Joey Ramone Place," was New York City's most stolen sign. As of September 27, the sign has been moved to 20 feet above ground level.

2006 - The sale of Syd Barrett's final belongings were sold by Cheffins auctioneers in Cambridge. The sale of the 77 items raised £119,890. Ten paintings alone raised over £55,000 and two bicycles over £10,000. The sale included such things as the armchair he used to sit in, his home-made bread bin, tools, notebooks and binders and books. The sale catalogue described Barrett - who quit Pink Floyd in 1968 - as a man with a "total disinterest in materialism."

2015 - Former New Order bassist Peter Hook was suing his ex-bandmates for £2.3m. Hook accused Bernard Sumner and Stephen and Gillian Morris of "pillaging" the pop group's assets after the three other band members set up a company to handle the band's income in 2011 without him .

1961 - Neil Christian and the Crusaders, featuring a young Jimmy Page on guitar, played a concert at Holloway Women's Prison in London. The inmates were all dressed in washed out yellow, green, blue and red faded floral print dresses and wore homemade mascara, using the charcoal from burnt matches.

1962 - The Beatles recorded their first BBC radio session at the BBC Paris studio on Regent Street in London. They played 'Twist and Shout', 'Love Me Do' and 'P.S. I Love You', the tracks were aired on the BBC Light Program 'Talent Spot.'

1970 - George Harrison released All Things Must Pass which includes the hit singles 'My Sweet Lord' and 'What Is Life', as well as songs such as 'Isn't It a Pity' and the title track that had been turned down for inclusion on releases by the Beatles. The triple album would go on to be certified 6x Platinum by the RIAA, making it the best selling album by a solo Beatle.

1981 - The British Phonographic industry placed advertisements in the press claiming that 'home taping was wiping out music'. The Boomtown Rats, 10cc, Elton John and Cliff Richard all backed the campaign.

1997 - A disturbed rock fan brought the funeral of INXS singer Michael Hutchence to a standstill when he tried to launch himself from a 20 ft high balcony with a cord around his neck. He was removed by police and taken away to a psychiatric unit.

2005 - Tony Meehan drummer with The Shadows died aged 62 from head injuries sustained in a fall at his London flat in Maida Vale. Had the 1963 No.1 single 'Foot Tapper' plus 28 other Top 40 singles. Left The Shadows in 1961 to work as a session drummer with Joe Meek. Also had the No.1 hit 'Diamonds' with Jet Harris.

1962 - The Beatles recorded their second single 'Please Please Me' in 18 takes and 'Ask Me Why' for the flip side at EMI studios London. When released in the US on the Vee-Jay label, the first pressings featured a typographical error: The band's name was spelled "The Beattles".


1973 - The New York Dolls made their live UK debut at Biba's Rainbow Room, London. The American band who formed in New York in 1971 influenced the look of many new wave and 1980s-era glam metal groups.

1976 - The Sex Pistols released the single 'Anarchy In The UK'. Originally issued in a plain black sleeve, the single was the only Sex Pistols recording released by EMI, and reached No.38 on the Singles Chart before EMI dropped the group on 6 January 1977.

2016 - Punk memorabilia said to be worth £5m was set on fire in the middle of the River Thames in London. Joe Corre, the son of Sex Pistols manager Malcolm McLaren and fashion designer Dame Vivienne Westwood, burnt the items on the 40th anniversary of the Sex Pistols debut single. The 48-year-old told the crowd that "punk was never meant to be nostalgic".

1965 - Harrods department store in London was closed to the public so The Beatles could do their Christmas shopping in private.

1966 - The Jimi Hendrix Experience made their UK live debut at the Bag O'Nails Club, London, where they played using the club's DJ booth. Eric Clapton, Pete Townshend, The Beatles, Mick Jagger, Brian Jones, Jeff Beck, Jimmy Page, The Hollies and the Small Faces would all hang out at the club.

1972 - Chuck Berry was at No.1 on the singles chart with 'My Ding a-Ling', his only UK No.1. The song was originally recorded by Dave Bartholomew in 1952. Berry's version was from a concert recorded at the Locarno ballroom in Coventry, on 3 February 1972.

1974 - Singer, songwriter Nick Drake died in his sleep aged 26 of an overdose of tryptasol an anti-depressant drug. Drake signed to Island Records when he was twenty years old, recorded the classic 1972 album Pink Moon. In 2000, Volkswagen featured the title track from Pink Moon in a television advertisement, and within a month Drake had sold more records than he had in the previous thirty years.

1984 - The cream of the British pop world gathered at S.A.R.M. Studios, London to record the historic Do They Know It's Christmas? The single, which was written by Bob Geldof and Midge Ure, featured Paul Young, Bono, Boy George, Sting and George Michael. It went on to sell over three million copies in the UK, becoming the bestselling record ever, and raised over £8 million worldwide.

1996 - A statue in Montreux, Switzerland by sculptor Irena Sedlecka was erected as a tribute to Freddie Mercury. Standing almost 10 feet (3 metres) high overlooking Lake Geneva it was unveiled by Freddie's father and Montserrat Caballé, with bandmates Brian May and Roger Taylor also in attendance.

2000 - A burglar broke into Alice Cooper's home and made off with over $6000 worth of clothes, shoes and cameras belonging to the singer's daughter. The good's were all lifted from Cooper's house in Paradise Valley, along with four of the star's gold discs.

Kevin Dubrow, the frontman with metal band Quiet Riot, was found dead in his Las Vegas home at the age of 52. Their 1983 release Metal Health was the first metal album to top the US charts. The band's biggest hit was 'Cum on Feel the Noize', a cover of the Slade song which they are said to have grudgingly recorded - in just one take.

2009 - Brian May joined Freddie Mercury's 87-year-old mother Jer Bulsara in Feltham town centre, at a ceremony to unveil a plaque to the late singer's memory. They were joined by over 2,000 fans from as far as Japan and Australia who descended on the Centre, in Feltham High Street. The plague reads: "Freddie Mercury - musician, singer and songwriter" along with the dates he lived in Feltham, between 1964 and 1968.

Week Commencing November 18
1965 - Marc Bolan appeared live on Five O'Clock Funfair, performing 'The Wizard'.

1967 - A 16 date package tour played its 7th night at the Sophia Gardens Pavilion, Cardiff. Featuring The Jimi Hendrix Experience, Pink Floyd, The Move, The Nice, The Outer Limits, The Eire Apparent and Amen Corner, the entourage performed twice nightly. In 1974, Pink Floyd returned to the venue, which has since been demolished, to be replaced by the 'Really Welsh Pavilion'.

1975 - Queen started a nine-week run at No.1 on the singles chart with Bohemian Rhapsody. The promotional video that accompanied the song is generally acknowledged as being the first pop video and cost only £5,000 to produce. When the band wanted to release the single various record executives suggested to them that, at 5 minutes and 55 seconds, it was too long and would never be a hit.

Keith Richards' girlfriend Anita Pallenburg was cleared by a court of shooting a man found dead at her home. A 17-year-old, Scott Cantrell, had shot himself in the head with a gun owned by Keith Richards, while in Pallenberg's bed, at the South Salem, New York house shared by Richards and Pallenberg. Cantrell had been employed as a part-time groundskeeper at the estate and was involved in a sexual relationship with Pallenberg.

1994 - Tommy Boyce, singer, songwriter, committed suicide. 1968 US No. 8 single with Bobby Hart, 'I Wonder What She's Doing Tonite', also wrote 'Last Train To Clarksville', 'I'm Not Your Stepping Stone' and 'Scooby- Doo Where Are You.' Sold over 40m records.

2012 - According to a new list of the 200 rarest records published in Record Collector magazine, the original acetate of the pre-Beatles demo by the Quarrymen of 'That'll Be The Day' was worth £200,000. Several other Beatles records figured in the top 20. Low-numbered copies of The Beatles The White Album was said to be worth £7,000, though a copy of a mono White Album #0000005 sold for £19,201 in 2009.

1965 - Bob Dylan married Sara Lowndes in a secret ceremony during a break in his tour. The marriage took place under an oak tree on a judge's lawn on Mineola, Long Island, New York. Sara who is the mother of singer Jakob Dylan filed for divorce on March 1st 1977.

1968 - The Beatles double White Album was released. Featuring 'Ob-La-Di, Ob-La-Da', 'Dear Prudence', 'Helter Skelter', 'Blackbird' 'Back In The USSR' and George Harrison's 'While My Guitar Gently Weeps'. Priced at £3.13 shillings, it spent eight weeks as the No.1 album.

1975 - Scottish comedian Billy Connolly was at No.1 on the singles chart with a parody of the Tammy Wynette song D.I.V.O.R.C.E. Connolly's early career as a singer led to him forming a folk-pop duo called The Humblebums in the late 60s, with future star Gerry Rafferty.

1990 - Bill Wyman announced that his 17-month marriage to model Mandy Smith was over. With the consent of her mother, Smith had started dating the 47-year-old Rolling Stones bassist when she was aged 13.

1994 - Pearl Jam released their third studio album Vitalogy, which was first released on vinyl and became the first vinyl album to appear on the chart since the domination of the compact disc format. They followed the release in other formats two weeks later, whereupon it became the second-fastest-selling CD in history, behind only the band's previous release Vs.

1997 - INXS singer Michael Hutchence was found dead in his hotel suite in Sydney. He was 37. Hutchence body was found at 11.50am naked behind the door to his room. He had apparently hanged himself with his own belt and the buckle broke away and his body was found kneeling on the floor and facing the door. It had been suggested that his death resulted from an act of auto eroticism, no forensic or other evidence to substantiate that suggestion was found.

The Doors; Ray Manzarek and Robby Krieger, announced they would record and tour again with a new line up including ex-Cult singer Ian Astbury and former Police drummer Stewart Copeland. Original drummer John Densmore was unable to take part because he was suffering from severe tinnitus.

2004 - Ozzy Osbourne struggled with a burglar who escaped with jewellery worth about £2m from his Buckinghamshire mansion. Osbourne told reporters that he had the masked raider in a headlock as he tried to stop him. The burglar broke free and jumped 30 ft from a first floor window. A large amount of jewellery was stolen in the raid in which two burglars were involved.

2005 - A gig by former Stone Roses frontman Ian Brown was abandoned after 20 minutes because the floor at the venue began to sag. 2,000 people were told to leave Newcastle's Carling Academy, which had been open only a month. Organisers said it was simply a safety precaution after joists under the main dance floor came out of their springs.

1955 - Carl Perkins recorded 'Blue Suede Shoes' at Sun Studios in Memphis. The rock 'n' roll classic became a No.10 hit for Perkins in 1956, and has been covered by many acts including Elvis Presley and John Lennon.

1962 - The Beatles played gigs at three different venues. First they performed a lunchtime show at The Cavern Club, Liverpool, followed by an 85-mile drive to the Midlands, where they performed at Smethwick Baths Ballroom and then at the Adelphi Ballroom, West Bromwich in Staffordshire.

1964 - The Supremes became the first all girl group to have a No.1 single when 'Baby Love' went to the top of the charts. Written and produced by Motown's main production team Holland–Dozier–Holland, it was also the second of five Supremes songs in a row to go to No.1 in the United States.

1965 - David Bowie and the Lower Third appeared at The Marquee Club, London.

1965 - The Kinks, The Who, Georgie Fame & The Blue Fames, The Hollies, Wilson Pickett and The Golden Apples Of The Sun all appeared at the Glad Rag Ball, Empire Pool, London, tickets 30 shillings.

1976 - Sounds made the Sex Pistols debut single 'Anarchy In The UK' its single of the week.

1983 - English musician and songwriter Tom Evans from Badfinger committed suicide by hanging himself in his back garden from a willow tree after arguments concerning royalties for 'Without You'. Family members said the singer/songwriter was never able to get over his former bandmate Pete Ham's suicide.

1994 - Crosby Stills & Nash member David Crosby had a successful liver transplant operation at Dumont-UCLA in Los Angeles. Crosby's liver was deteriorated from extensive alcohol and drug abuse, as well as hepatitis-C.

Greg Ridley died from pneumonia. He was a member of the VIP's with Keith Emerson, Spooky Tooth, and Humble Pie who had the 1969 No.4 single 'Natural Born Boogie'. He formed Strange Brew with Clem Clempson and Cozy Powell.

2004 - Record producer Terry Melcher, who was behind hits by the Byrds, Ry Cooder and The Beach Boys, died aged 62 after a long battle with skin cancer. The son of actress Doris Day, he co-wrote 'Kokomo' for The Beach Boys, produced 'Mr Tambourine Man' for the Byrds, as well as hits for The Mamas & the Papas.

2012 - Two farmers were found not guilty of health and safety offences after a giant hay bale crushed former ELO cellist Mike Edwards to death. He was killed instantly when the 600kg bale rolled down a field and landed on his van near Totnes in Devon in September 2010. In March 2011 in Plymouth an inquest jury returned a verdict of accidental death on Mr Edwards.

2016 - A furious letter from John Lennon to Paul McCartney and his wife, Linda, written after The Beatles' break-up sold for nearly $30,000 (£24,200), to an anonymous collector in Dallas. In the two-page typed draft with handwritten notes, Lennon criticises the couple for their treatment of him and his wife, Yoko Ono. The attack is said to be in response to Linda's criticism of him not publicly announcing his departure from the band.

1956 - Fats Domino appeared on the Ed Sullivan Show performing 'Blueberry Hill.' Before the song became a rock and roll standard it had been recorded by various artists including Louis Armstrong, The Glenn Miller Orchestra, Gene Autry and Jimmy Dorsey. The version by Fats Domino was ranked No.82 in Rolling Stone magazine's list of the 500 Greatest Songs of All Time.

1965 - Manfred Mann, The Yardbirds and Paul and Barry Ryan all appeared at the ABC Cinema, Stockton-on-Tees.

1970 - Led Zeppelin III was at No.1 on the UK & US album charts. The original cover and interior gatefold art consisted of a surreal collection of random images. Behind the front cover was a rotatable laminated card disc, covered with more images, including photos of the band members, which showed through holes in the cover. The distinctive cover was based on a suggestion of Jimmy Page's that it should resemble an old-fashioned gardening seed chart. Designed by Richard Drew aka Zacron, the sleeve photographs were taken by fellow Leeds Polytechnic lecturer Martin Salisbury.

1972 - Singer, songwriter Danny Whitten died of a drug overdose aged 29. He was a member of Neil Young's Crazy Horse and writer of 'I Don't Wanna Talk About It', covered by Rod Stewart, Rita Coolidge and Everything But The Girl. The Neil Young song 'The Needle and the Damage Done' was written about Whitten's heroin use (before he died of an overdose).

1974 - Genesis released the double concept album The Lamb Lies Down on Broadway their sixth studio album and the last album by the group to feature the involvement of lead singer Peter Gabriel.

Richard Hell and the Voidoids made their debut at CBGBs New York. Hell was an innovator of punk music and fashion and was one of the first to spike his hair and wear torn, cut and drawn-on shirts, often held together with safety pins. Malcolm McLaren, manager of the Sex Pistols, has credited Hell as a source of inspiration for the Sex Pistols' look and attitude.

2017 - Australian musician and songwriter Malcolm Young died age 64. Young was best known as a co-founder, rhythm guitarist, backing vocalist and songwriter for AC/DC. Except for a brief absence in 1988, he was with the band from its November 1973 beginning until retiring permanently in 2014. Young was born in 1953 in Glasgow before his family emigrated to Australia when he was 10. His family confirmed he was suffering from dementia in 2014.

Week Commencing November 11
1968 - Led Zeppelin played their first ever show in the North of England when they appeared at Manchester College of Science & Technology. Zeppelin were paid £225 for the gig.

1968 - The Jimi Hendrix Experience went to No.1 on the US album chart with their third and final studio album Electric Ladyland. The double album included 'Crosstown Traffic,' 'Voodoo Chile' and a version of Bob Dylan's 'All Along the Watchtower'. Hendrix expressed displeasure and embarrassment with the "naked lady" cover which was banned by several record dealers as "pornographic", while others sold it with the gatefold cover turned inside out.

1971 - Frank Zappa appeared on this week's 'Old Grey Whistle Test', playing live and showing clips from his '200 Motels' film.

1976 - Beach Boy Brian Wilson gave his first formal interview for eight years on the 'Old Grey Whistle Test.'

1987 - Former Clash drummer Topper Headon was jailed for 15 months at Maidstone Crown Court, for supplying heroin to a man who later died.

1988 - Former Beach Boys manager Stephen Love was sentenced to five years probation for embezzling almost $1m from the group's accounts.

2006 - Queen's 'Greatest Hits' album was declared the Best Selling UK album of all time by The Official UK Charts Company. The chart which was made up of sales figures from the last fifty years showed their Greatest Hits compilation had sold 5,407,587 copies. The Beatles occupied second place with Sgt Pepper's Lonely Heart's Club Band.

1966 - The Doors officially signed with Elektra Records in a deal for the band to produce seven albums. The band also reluctantly agreed to release 'Break On Through' as their first single. The lyric "She gets high/she gets high/she gets high" was changed to 'She gets/she gets/she gets" in order to secure radio play.

1969 - The Carpenters released their debut album, Offering (later re-named as Ticket To Ride) on A&M Records. It was a commercial failure and produced only one minor hit single, a ballad version of The Beatles song 'Ticket to Ride'.

1969 - Janis Joplin was arrested during a gig in Tampa, Florida, after badmouthing a policeman and using vulgar and indecent language. Joplin became upset after police moved into the hall forcing fans to move back to their seats. As the singer left the stage she confronted a detective calling him 'a son of a bitch' and told him she would kick his face in. She was released on $504 bail.

1980 - Blondie had their fifth No.1 single and third No.1 of this year with 'The Tide Is High' a song written by reggae star John Holt.

1992 - Ozzy Osbourne announced his retirement from touring after a gig in California, saying "Who wants to be touring at 46?"

2007 - Kenneth Donnell from Glasgow paid £83,000 for two tickets to see Led Zeppelin rehearse and perform at the O2 arena in London on the 10th December. Donnell bid for the tickets as part of an auction for the BBC's Children in Need.

1964 - Decca Records released The Rolling Stones' 'Little Red Rooster'. Written by Willie Dixon (as The Red Rooster), and previously recorded by Howlin' Wolf and Sam Cooke, the single was recorded at Chess Studios in Chicago. The single was a No.1 hit and remains the only time a blues song has ever topped the UK pop chart.

1968 - Rolling Stone Brian Jones bought 'Cotchford Farm' in Sussex. The author AA Milne, who wrote Winnie The Pooh, had owned the house.

1968 - Hugo Montenegro was at No.1 in the singles chart with 'The Good The Bad And The Ugly', the soundtrack from a Clint Eastwood spaghetti western film. The first instrumental No.1 since 1963.

1976 - Led Zeppelin scored their seventh No.1 with the film soundtrack double album The Song Remains The Same, peaking at No.2 on the US chart. The tracks were recorded at Madison Square Garden, New York City in 1973.

1976 - The Melody Maker announced UK dates for the first major punk tour with The Sex Pistols and the Ramones co-headlining along with Talking Heads, The Vibrators and Chris Spedding. The 14-date tour which was due to start at Newcastle City Hall on Nov 29th never took place.

1990 - Patricia Boughton filed a lawsuit against Rod Stewart claiming that a football he kicked into the crowd during a concert at Pine Knob Music Theatre had ruptured a tendon in her middle finger. And as a result the injury had made sex between her and her husband difficult.

1992 - Ronnie Bond drummer with The Troggs died. Scored the 1966 No.2 single 'Wild Thing' and 1966 No.1 'With A Girl Like You.'



2016 - Leon Russell died in Nashville, he was 74. He led Joe Cocker's band Mad Dogs & Englishmen, and appeared at George Harrison's 1971 Concert for Bangladesh. Many of his songs became hits for others, among them 'Superstar' (written with Bonnie Bramlett) for the Carpenters, 'Delta Lady' for Joe Cocker, and 'This Masquerade' for George Benson. More than 100 acts have recorded 'A Song for You,' which Russell said he wrote in 10 minutes.

1956 - Johnnie Ray was at No.1 on the singles chart with 'Just Walking In The Rain.' It stayed at No.1 for seven weeks making it this years Christmas No.1. Written in 1952 by Johnny Bragg and Robert Riley, two prisoners at Tennessee State Prison in Nashville, after a comment made by Bragg as the pair crossed the courtyard while it was raining.

1965 - After changing his name from Toby Tyler to Marc Bolan, the future T. Rex star performed his first single 'The Wizard' on Ready Steady Go!

1965 - Velvet Underground made their live debut when the played at Summit High School, New Jersey, the band were paid $75 for the gig.

1966 - Pink Floyd appeared at the Corn Exchange, Bedford. The set list for these early Floyd shows included: 'Let's Roll Another One', 'Gimme A Break', 'Interstellar Overdrive', 'Astronomy Domine' and 'Stoned Alone'. 'Stoned Alone' was also known as 'I Get Stoned', and was possibly the first song Syd Barrett wrote for Pink Floyd.

1968 - Book and record chain WHSmiths refused to display The Jimi Hendrix Experience album 'Electric Ladyland' due to the naked girls featured on the sleeve. The album was then made available as two albums with changed artwork after the complaints.

1977 - The Sex Pistols went to No.1 on the album chart with their debut LP Never Mind The Bollocks, Here's The Sex Pistols. the group's only No.1 album. The album was met by a hail of establishment controversy upon its release. The first problems involved the allegedly 'obscene' name of the album, resulting in the prosecution of the manager of the Nottingham Virgin record shop for having displayed it in a window. More outrage was sparked by the lyrics of the songs 'God Save the Queen' and 'Anarchy in the UK.'

1990 - Rolling Stone Ronnie Wood broke both his legs after his car crashed on the M4 motorway near Marlborough, Wiltshire. Wood was trying to wave other cars past his when he was run over.

2001 - The three living former Beatles met for the last time at George Harrison's hotel in New York City for lunch. Harrison died two weeks later at a friend's home in Los Angeles on 29 November 2001, aged 58.

2002 - Die-hard Beatles fans were enraged after Paul McCartney altered the song writing credits on his 'Back In The US 2002' album, changing them to McCartney and Lennon from Lennon and McCartney.

2003 - American session drummer Tony Thompson died of cancer aged 48. He was most famous as the drummer with The Power Station along with Robert Palmer, and John Taylor and Andy Taylor of Duran Duran, and Chic, whose single 'Le Freak' hit No.7 in the UK. He also played on David Bowie's hit single 'Let's Dance'. Thompson also played drums with Led Zeppelin (along with Phil Collins) at Live Aid in 1985.

2004 - The funeral of iconic DJ John Peel took place at St Edmundsbury Cathedral, Bury St Edmunds. Pulp's Jarvis Cocker, Undertones singer Feargal Sharkey and The White Stripes were among mourners, while Sir Elton John left a wreath of yellow roses.

2008 - Mitch Mitchell, the British drummer with the Jimi Hendrix Experience was found dead in his US hotel room aged 61. As a teenager, he starred in a children's television programme, Jennings and Derbyshire, and starred in a leading role in the 1960 British film Bottoms Up with Jimmy Edwards. Mitchell had been working with Georgie Fame & the Blue Flames when in 1966 he was invited to audition for a new band being formed to back Jimi Hendrix. In December 1968, Mitchell played with the Dirty Macs, an all-star band assembled for The Rolling Stones 'Rock and Roll Circus' (with John Lennon, Eric Clapton and Keith Richards).

1965 - The final recording session for The Beatles Rubber Soul album took place, at Abbey Road, London. They needed three new songs to finish the album so an old song 'Wait' was pulled off the shelf and the group recorded two new songs from start to finish. Paul's 'You Won't See Me' and John's 'Girl', the basic tracks for both songs being completed in two takes. Rubber Soul was completed, and finished copies of the album were in the shops by December 3.

1971 - Top Of The Pops celebrated its 400th show. The chart show was presented by Tony Blackburn with guests Tom Jones, Dana, John Kongos, Cher, Slade, Cilla Black, The Piglets, Clodagh Rodgers and The Newbeats.

1972 - The Allman Brothers Band bass player Berry Oakley was killed when his motorcycle hit a bus at the same intersection as former band member Duane Allman, who had died a year earlier. Oakley was 24 years old.

1973 - Thirty US radio stations broadcasted a 'live' Mott The Hoople concert. In reality it was the band recorded in the studio with the applause dubbed in.

1978 - The Cars released 'My Best Friend's Girl', the first picture-disc single commercially available, which went on to be a No.3 hit.

1983 - Mick Jagger appeared on the The Tube to defend the video to The Rolling Stones latest single 'Undercover Of The Night' which had been banned by the Independent Broadcasting Authority. The Tube aired the video, minus the scene where Mick was shot through the head. The single peaked at No.8 on the chart

1989 - Chris Rea started a three-week run at No.1 on the album chart with 'The Road To Hell.' The iconic album cover features art by the English artist, Adrian Chesterman, who was also responsible for creating cover art for, amongst others, Motörhead for their 1979 'Bomber' album.



1990 - Ted Albert, the founder of Albert Productions, died from a heart attack aged 53. His Australian based company helped launch the careers of The Easybeats, John Paul Young, The Angels, Rose Tattoo and AC/DC. In recognition of his contribution to the music industry, the Australasian Performing Right Association established the annual "Ted Albert Award for Outstanding Services to Australian Music". [RIP the brilliant Doc Neeson from The Angels]

1990 - A 21 year-old AC/DC fan died after being attacked outside the Brendan Byrne Arena in New Jersey where the band were playing a gig that night.

2004 - Coldplay fan Sarah Sainsbury wrote to the band asking for their autographs so she could sell them to raise funds at her school charity. Coldplay sent her a triple platinum disc worth over £4,000.

2011 - The four original band members of Black Sabbath announced that they were reuniting and recording a new album followed by a world tour in 2012.

2015 - Phil Taylor better known as "Philthy Animal" Taylor and drummer with Motörhead died aged 61. He was in the classic mark IV Motörhead line-up of Lemmy, Taylor, and Fast Eddie Clarke who recorded ten studio albums and the live album No Sleep 'til Hammersmith.

Week Commencing November 4
1967 - The Beatles filmed three promotional films for their new single 'Hello Goodbye' at the Saville Theatre in London. Each of the three film clips featured different costumes and Beatle antics. In the first film they wear their Sgt. Pepper uniforms, for the second The Beatles are wearing everyday clothes, the third film clip features shots from the first two films, plus additional shots of The Beatles (especially John) doing the twist. A Musician's Union ban on lip-sync broadcasts prevented the film being used on British television.

1975 - David Bowie was at No.1 on the singles chart with 'Space Oddity' the track was first released in 1969 to tie in with the Apollo 11 moon landing. Rick Wakeman (former keyboard player with Yes) provided synthesizer backing. Bowie would later revisit his Major Tom character in the songs 'Ashes to Ashes', 'Hallo Spaceboy' and 'Blackstar'.

1979 - The Eagles went to No.40 on the singles chart with 'Heartache Tonight'.

1997 - American session guitarist Tommy Tedesco died of lung cancer aged 67. Described by "Guitar Player" magazine as the most recorded guitarist in history recording with The Beach Boys, Everly Brothers, The Supremes, The Monkees, The Association, Barbra Streisand, Elvis Presley, Ella Fitzgerald, Frank Zappa, Sam Cooke, Cher, and Nancy and Frank Sinatra. And played on many TV themes including Bonanza, The Twilight Zone, M*A*S*H and Batman.

2014 - The Rolling Stones faced a battle to win a £7.9m insurance claim for concerts they postponed when Mick Jagger's girlfriend died. L'Wren Scott took her own life in March, prompting the Stones to postpone a tour of Australia and New Zealand. The group had taken out a policy to be paid in the event shows were cancelled due to the death of family members or others, including Scott. But underwriters said Scott's death may not be covered by the policy. (wow, how unusual, an insurance company refusing to pay out).



1955 - The Everly Brothers made their first studio recordings cutting four tracks in 22 minutes, at Nashville's Old Tulane Hotel studios. Family friend Chet Atkins engineered a chance for The Everly Brothers to record for Columbia Records in early 1956. However, their first and only single for the label, 'Keep A' Lovin' Me', was a flop, and they were quickly dropped from Columbia.

1967 - The first issue of Rolling Stone Magazine was published in San Francisco. It featured a photo of John Lennon on the cover, dressed in army fatigues while acting in his recent film, How I Won the War and the first issue had a free roach clip to hold a marijuana joint. The name of the magazine was compiled from three significant sources: the Muddy Waters song, the first rock 'n' roll record by Bob Dylan and The Rolling Stones.

1968 - Led Zeppelin played their first ever London show when they appeared at The Roundhouse, Chalk Farm on the same bill as John Lee Hooker, Deviants, John James and Tyres. Robert Plant married his girlfriend Maureen in London on this day and held the reception at the gig.

1974 - Bachman Turner Overdrive went to No.1 on the US singles chart with 'You Ain't Seen Nothin' Yet'. Randy Bachman stuttered through the lyrics of the demo recording as a private joke about his brother Gary, who had a speech impediment. The record company liked that take better than the non-stammering version and released it.

1997 - Paul Weller was arrested and spent the night in a French jail after smashing up his hotel room. His record company paid £4,000 to cover the damage; Weller was released the following day.

2015 - Scottish session drummer Andy White died aged 82. He was affectionately christened "the fifth Beatle" as he was best known for replacing Ringo Starr on drums on the The Beatles' first single, 'Love Me Do'. White was featured on the American 7" single release of the song, which also appeared on the band's debut British album, Please Please Me. He also played on 'P.S. I Love You', which was the B-side of 'Love Me Do'. White also worked with Chuck Berry, Billy Fury, Herman's Hermits and Tom Jones.

2016 - David Bowie's retrospective show at the Victoria & Albert Museum had enjoyed so much foot traffic it was now officially the most successful touring exhibition in the cultural institution's 164-year history. According to the V&A over half a million people had visited 'David Bowie Is' in sites across the globe, including the 312,000 visitors who saw the exhibition in London back in 2013.

1952 - The first ever pop chart was published by the New Musical Express after staff asked 53 record shops to divulge their sales returns. 'Here In My Heart' by Al Martino was the first No.1. The song stayed at No.1 for nine weeks.

1968 - The Who, Joe Cocker and The Grease Band, The Mindbenders and The Crazy World of Arthur Brown all appeared at The Walthamstow Granada Theatre.

1971 - Led Zeppelin released their fourth album. With no title printed on the album, and generally referred to as Four Symbols, The Fourth Album or Led Zeppelin IV it has gone on to sell over 37 million copies worldwide. The 19th century rustic oil painting on the front of the album was purchased by Robert Plant from an antique shop in Reading. The 20th century urban tower block on the back of the full gatefold LP cover is Butterfield Court in Eves Hill, Dudley.

Lester Bowie died of liver cancer aged 58. He was a member of the Association for the Advancement of Creative Musicians and co-founded the Art Ensemble of Chicago. In 1993, he played on the David Bowie album Black Tie White Noise, including the song 'Looking for Lester', which was named after him.

2008 - AC/DC started a run at No1 on the album chart with 'Black Ice' the band's fifteenth studio album and the second-best selling album of 2008. Black Ice went to No1 in 29 countries, including Australia, Canada and the US.

1951 - Frank Sinatra married his second wife actress Ava Gardner, the couple split up in 1953 and divorced in 1957. Sinatra was married three other times, to his first wife Nancy Barbato, to the actress Mia Farrow and finally to Barbara Marx, to whom he was married at his death.

1967 - Reg Dwight (Elton John) and his song writing partner Bernie Taupin signed to DJM publishing, their signatures had to be witnessed by their parents because they were both under 21 years of age. Taupin answered an advertisement for a lyric writer placed in the New Musical Express, the pair have since collaborated on over 30 albums.

1975 - A new world record was set for continuous guitar string plucking by Steve Anderson who played for 114 hours 17 minutes.

1991 - Rhythm guitarist Izzy Stradlin quit Guns N' Roses and was replaced by guitarist Gilby Clarke. Stradlin citied a combination of Axl Rose's personal behaviour and the difficulties of being around Slash, Matt Sorum, and Duff McKagan, due to his new-found sobriety.

2004 - Elton John turned the air blue live on BBC Radio 1 using the words; 'fucking', 'wank', and 'tits'. The singer was a guest on the Chris Moyles breakfast show.

2014 - Two wealthy fans paid $300,000 to eat lasagne with Bruce Springsteen at his house. Springsteen started off the annual Stand Up For Heroes event by playing an acoustic set, then offering the instrument to the highest bidder. When bidding reached $60,000, he threw in a guitar lesson, which someone offered $250,000 for. At this point, he offered up a lasagne dinner at his house, a ride around the block in the sidecar of his motorbike and the shirt off of his back. All the money went to the Bob Woodruff Foundation, which helps injured servicemen and their families when they return home.

2014 - Australian drummer of AC/DC, Phil Rudd, had a charge of attempting to arrange a murder dropped in New Zealand, but he will still face charges of drugs possession and making threats to kill. The U-turn by authorities, announced less than 24 hours after Mr Rudd appeared in court, was because of a lack of evidence, his lawyer said.

2016 - Canadian singer, songwriter and poet Leonard Cohen died at the age of 82 at his home in Los Angeles. Cohen pursued a career as a poet and novelist during the 1950s and early 1960s, and did not launch a music career until 1967, at the age of 33. His first album, Songs of Leonard Cohen (1967), was followed by three more albums of folk music: Songs from a Room (1969), Songs of Love and Hate (1971) and New Skin for the Old Ceremony (1974).



2017 - Finnish rock drummer Pentti (Whitey) Glan died of lung cancer at the age of 71. He is best known for his work with Alice Cooper and Lou Reed. He also appeared in the movie 'The Rose' as the drummer of The Rose Band.

1964 - During their first promotional visit to the UK, The Beach Boys appeared live on ITV's 'Ready Steady Go!' which ran from August 1963 until December 1966.

1967 - During a three hour session Bob Dylan recorded 'All Along The Watchtower' and 'John Wesley Harding' at Columbia Recording Studios in Nashville, Tennessee. The Jimi Hendrix Experience later recorded their version of 'All Along the Watchtower' on January 21, 1968, at Olympic Studios in London after Hendrix had been given a tape of Dylan's recording by publicist Michael Goldstein, who worked for Dylan's manager Albert Grossman.

1968 - The Monkees' three quarter of a million dollar feature film, Head opened in New York City. Instead of being aimed at their target audience of teeny boppers, the film contained a dark theme about the manipulation of the group with walk-on appearances by inappropriate guests and scenes of Vietnam War atrocities. Reviews were harsh and the picture was a box office disaster.

1970 - Aerosmith performed their first ever gig when they played at Nipmuc Regional High School in Mendon, Massachusetts. Sometimes referred to as "The Bad Boys from Boston", Aerosmith became the best-selling American rock band of all time, having sold more than 150 million albums worldwide. They also hold the record for the most gold and multi-platinum albums by an American group.

1972 - During a UK tour, Billy Murcia of The New York Dolls died after choking on his coffee after an overdose of Mandrax. The influential American band formed in 1972 and made just two albums, the 1973 'New York Dolls' and 1974 'Too Much Too Soon'.

1973 - Michael Martin and Phil Kaufman were charged and fined $300 each for the theft of a coffin containing Gram Parsons body. The court heard that the two men were merely carrying out Parson's wishes to be cremated in the desert.

The Sex Pistols made their live debut at St Martin's School Of Art in central London, supporting a band called Bazooka Joe, which included Stuart Goddard (the future Adam Ant). The Pistols' performance lasts 20 minutes.

2003 - Metallica kicked off their 137-date Madly in Anger with the World Tour at Yoyogi Taiikukanin Tokyo, Japan. The Madly in Anger with the World tour was the fourth-highest grossing tour of 2004, reaping $60,500,000 in ticket sales.

2018 - English cellist Hugh McDowell died of cancer on aged 65. McDowell performed with the first live line-up of ELO in 1972 while only 19 years old. He also worked with Roy Wood in Wizzard.

1966 - The Monkees were at the top of the Billboard singles chart with 'Last Train To Clarksville', the group's first No. 1. Bobby Hart who co-wrote the song got the idea for the lyrics when he turned on the radio and heard the end of The Beatles' 'Paperback Writer'. He thought Paul McCartney was singing "Take the last train", and decided to use the line when he found out McCartney was actually singing 'Paperback Writer'.

1977 - The manager of the Virgin record store in Nottingham was arrested for displaying a large poster advertising the new Sex Pistols album, 'Never Mind The Bollock's, Here's The Sex Pistols'. High street stores banned the album after police warned they could be fined under the 1898 indecent advertising act.

1982 - Channel 4 TVs The Tube had its first showing. Presented by Paula Yates and Jools Holland, the show featured The Jam and an interview with Mick Jagger. The first live act on the show was local band Toy Dolls. The show ran until 1987 and was named after the plexiglass tunnel which led down into Studio Five at Tyne Tees TV, the place where all the stars from the 80s subsequently appeared.

1989 - Former US Army Staff Sergeant Barry Sadler died at a Veterans Administration hospital in Nashville from complications brought on by an unexplained gun shot wound to the head, suffered 14 months earlier in Guatemala City. Sadler is best remembered for his hit 'The Ballad of the Green Berets', which stayed on top of the chart for five weeks in 1966. He was 49 years old at time of his death.

2003 - Bobby Hatfield of The Righteous Brothers was found dead in hotel room in Michigan 30 minutes before he was due on stage, aged 63. The autopsy report from the Kalamazoo County Medical Examiner gave the opinion that Hatfield suffered a sudden, unexpected death due to acute cocaine toxicity. The Righteous Brothers had the 1965 No.1 single 'You've Lost That Lovin' Feelin', and the 1990 No.1 single 'Unchained Melody' first released in 1965.

2014 - The funeral for Jack Bruce was held in London, attended by Eric Clapton, Ginger Baker and noted musicians Phil Manzanera, Gary Brooker, Vernon Reid and Nitin Sawhney among others. Dozens assembled at the Golders Green Crematorium paying a last tribute singing "Morning Has Broken", "Strawberry Fields Forever" and "Theme for an Imaginary Western". The Scottish-born bass player and singer had died last month as a result of liver disease.

2017 - American singer Robert Knight died age 72. He is best known for the 1967 hit 'Everlasting Love'. The song was an even bigger hit the following year when a version by Love Affair reached No.1, preventing Knight's version from progressing further than No.40.

1967 - Pink Floyd made their US live debut when they appeared at the Winterland Auditorium, San Francisco. Floyd shared the bill with local group Big Brother & The Holding Company, featuring singer Janis Joplin and singer / songwriter Richie Havens.



1969 - Founder member of The Ink Spots, Ivory Watson died aged 60. The group who formed in the early 1930s in Indianapolis, had the 1939 US hit 'If I Didn't Care' (featured in the film The Shawshank Redemption), and 'The Gypsy' which was their biggest chart success, staying at the No.1 position for 13 weeks.

1971 - The Who opened up The Rainbow, Finsbury Park, London, appearing on the first of three nights.

1977 - The Last Waltz, the movie of The Band's final concert premiered in New York. The Martin Scorsese movie also featured Joni Mitchell, Dr John, Neil Young, Van Morrison, Neil Diamond, Eric Clapton.

1978 - Crosby Stills Nash & Young were sued by former bass player Greg Reeves for over a $1 million claiming he was owed from sales of their album 'Deja Vu'.

1991 - Bobby "Blue" Bland, Booker T. & The MGs, Johnny Cash, Jimi Hendrix, The Isley Brothers, Sam & Dave and The Yardbirds were all elected to the Rock & Roll Hall Of Fame.

Week Commencing October 28
1957 - Sun Records released 'Great Balls Of Fire', by Jerry Lee Lewis. The single went on to sell over five million copies worldwide, and was a No.1 hit in the UK and No.2 in the US.

1964 - During a Rolling Stones North American tour a 17 year-old Rolling Stones fan fell from the balcony during a gig in Cleveland, Ohio. The Mayor of Ohio banned all future pop concerts, saying; "Such groups do not add to the community's culture or entertainment."

1973 - David Bowie scored his second No.1 album when 'Pinups' started a five-week run at the top of the charts. The set contained Bowie covering his favourite 60s songs; his version of The Mersey's 'Sorrow' made No.3 on the singles chart (first recorded by The McCoys in 1965).

1995 - Hootie and the Blowfish reached an out of court settlement with Bob Dylan for the group's unauthorized use of Dylan's lyrics in their song 'Only Want To Be With You'.

2002 - Lonnie Donegan died mid-way through a UK tour and shortly before he was due to perform at a memorial concert for George Harrison with The Rolling Stones. He was aged 71. Donegan who launched the skiffle craze in the UK had the 1959 hit 'Does Your Chewing Gum Lose Its Flavour', the 1960 No.1 single 'My Old Man's A Dustman', 'Rock Island Line', plus over 30 other Top 40 singles.

1956 - Elvis Presley bought a new Harley Davidson motorbike and spent the day riding round Memphis on his new bike with actress Natalie Wood.

1968 - George Harrison released his first solo album, 'Wonderwall Music' on the Apple label. The songs which were mostly Harrison instrumentals, featured Eric Clapton, Ringo Starr and an unaccredited banjo contribution by Peter Tork of The Monkees.

Matthews Southern Comfort were at No.1 on the singles chart with their version of the Joni Mitchell song 'Woodstock'. The group's only No.1 hit.

2004 - 61-year old Terry Knight, the former manager of Grand Funk Railroad, was murdered at his home in Killeen, Texas. Knight was defending his daughter during a domestic disturbance, when he was stabbed by her boyfriend, 26 year old Donald Alan Fair. Knight began his music career by leading a Michigan band called Terry Knight and the Pack, who scored a Billboard top 50 hit with 'I, Who Have Nothing'.

2016 - Bap Kennedy, singer, songwriter from Belfast, died in Belfast in hospice care from pancreatic and bowel cancer. He is noted for his collaborations with Steve Earle, Van Morrison, Shane MacGowan and Mark Knopfler, as well as for writing the song 'Moonlight Kiss' which was on the soundtrack for the film Serendipity. Kennedy was also in the rock band Energy Orchard.

1963 - Gerry And The Pacemakers were at No.1 on the singles chart with 'You'll Never Walk Alone.' The group's third and final No.1.

1964 - The Supremes started a four week run at No.1 on the US singles chart with 'Baby Love', the group's second of five consecutive US No.1's. The group were formerly known as the five piece group The Primettes.

1969 - David Bowie appeared at a Halloween night at the General Gordon, Gravesend. The gig lasted about 15 minutes, after Bowie sang 'Space Oddity' to everyone's delight and then dragged a stool on stage, along with a huge book. He then sat and read poems and was booed off stage.

1970 - Led Zeppelin started a four week run at No.1 on the US album chart with Led Zeppelin III the bands second US chart topper.

Led Zeppelin held the UK launch for their new record label Swan Song at Chislehurst Caves, Kent, on Halloween night. Drinks were served by nuns in suspenders, a naked woman lay in a coffin covered in jelly and naked male wrestlers cavorted in recesses of the caves. Label mates Bad Company, The Pretty Things and Maggie Bell also attended. The launch also tied in with the releases of The Pretty Things new album Silk Torpedo. The label was