This week in . . .
1971,
The Rolling Stones
released their classic album Sticky Fingers in the UK. The band's first release on their own label via Atlantic Records, the cover was designed by Andy Warhol, who was paid $15,000 for his efforts. The LP sleeve featured a close-up of a pair of jeans with a working zip. Widely assumed to be that of Mick Jagger, the crotch photographed for the cover was actually that of actor Joe Dallesandro.
1976,
Ramones
released their eponymous debut album. The front cover depicts the band members standing in a line leaning against a brick wall, taken by Roberta Bayley. The cover was ranked No.58 on Rolling Stone's list of 100 Greatest Album Covers.
1977,
Adam And The Ants
made their debut at the Roxy Club, London.
1988,
Iron Maiden
went to No.1 on the UK album chart with 'Seventh Son Of A Seventh Son', their second No.1 album.
1991, Founder member of
The New York Dolls Johnny Thunders
(John Anthony Genzale, Jr), died of a drug overdose. He renamed himself Johnny Thunders after a comic book of the same name. The influential New York Dolls formed in 1972 and made just two albums. A teenage Morrissey acted as president of the UK branch of the New York Dolls fan club. Formed
The Heartbreakers
with Dolls drummer Jerry Nolan, and
Television
bassist Richard Hell.
2012,
Thomas "Tommy" Marth
, the touring and studio saxophonist for
the Killers
, died after shooting himself in the head at his Las Vegas home. The 33-year-old musician joined the band in 2005 and played on the live tours with Brandon Flowers and co between 2008 and 2010. Tommy also performed on 2006 release Sam's Town and 2008's Day & Age.
Week commencing April 16 . . .

1968,
Pink Floyd
released their fourth UK single 'It Would Be So Nice', written by Richard Wright with Roger Waters' 'Julia Dream' on the B-side. Pink Floyd were on tour in Europe on this day, and played their second night at the Piper Club, in Rome.
1974,
Bruce Springsteen and the E Street Band
appeared at the State Theatre in New Brunswick, New Jersey. The gig was unadvertised by its promoter who gambled that word-of-mouth would be enough to fill the 550-seat venue, only 250 people attended. Tickets cost $4.50 and $5.50 in advance.
1980, 32 year old English singer
Brian Johnson
joined Australian group
AC/DC
, replacing the iconic
Bon Scott
who had died after a drinks binge in February 1980. Johnson's first band was the
Gobi Desert Canoe Club
. He was also in a band called
Fresh
. From 1970, Johnson played with cabaret/club band
The Jasper Hart Band
, performing songs from the musical Hair. He and other members of the band went on to form
Geordie
.
2012,
Levon Helm
died of throat cancer aged 71. A drummer, singer and multi-instrumentalist, Helm formed his own high school band,
the Jungle Bush Beaters
, at 17, he later joined
The Hawks
(who became
Bob Dylan
's backing group) who then became known as
The Band
. He sang on Band classics such as 'The Night They Drove Old Dixie Down,' 'Up on Cripple Creek,' 'Rag Mama Rag,' and 'The Weight.'
2012,
Leonard Cohen
's former manager was jailed for 18 months for harassing the singer-songwriter. Kelley Lynch was found guilty by a Los Angeles court after a sending a torrent of expletive-strewn emails and letters to the star. She was also sentenced to five months probation and ordered to attend anger-management courses. Cohen thanked the court for the
"even-handed and elegant manner in which these proceedings have unfolded"
.
1960, Touring in the UK, 21-year-old US singer
Eddie Cochran
was killed when the taxi he was travelling in crashed into a lamppost on Rowden Hill, Chippenham (where a plaque now commemorates the event). Songwriter
Sharon Sheeley
and singer
Gene Vincent
survived the crash, Cochran's current hit at the time was 'Three Steps to Heaven'. The taxi driver, George Martin, was convicted of dangerous driving, fined £50, disqualified from driving for 15 years, and sent to prison for six months.
1973,
Pink Floyd
's album The Dark Side of The Moon went gold in the US. The LP went on to stay in the US chart for more than ten years and became the longest charting rock record of all time.
1974,
Vinnie Taylor,
guitarist with US rock 'n roll revival band
Sha Na Na
was found dead in a Holiday Inn hotel room in Charlottesville, Virginia from a drug overdose. Sha Na Na played at the Woodstock Festival; their 90-second appearance in the Woodstock film brought the group national attention. The group appeared in the movie Grease as Johnny Casino & The Gamblers.
1983,
Felix Pappalardi,
producer and bass player with American rock band
Mountain
, was shot dead by his wife Gail Collins during a jealous rage. Collins was convicted of criminally negligent homicide and sentenced to four years in prison. Pappalardi, who was 43, had produced the
Cream
albums 'Disraeli Gears' and 'Wheels of Fire.'
1987, Reggae drummer and percussion player
Carlton Barrett
of
The Wailers
was shot dead outside his house in Kingston, Jamaica. Joined
Bob Marley and The Wailers
in 1970, wrote the Marley song 'War'. Barrett was the originator of the one-drop rhythm, a percussive drumming style.
1998,
Linda McCartney
died after a long battle against cancer. Married Paul McCartney in 1969 when she was working as a photographer. As well as a being a member of
Wings
, she became an animal rights campaigner and launched her own brand of vegetarian food.
2008,
Danny Federici
, the longtime keyboard player for
Bruce Springsteen
and a member of
The E Street Band
, died of cancer at the age of 58. Federici had worked with Springsteen for over 40 years, starting with
Steel Mill
and
Child
with Springsteen.
Week commencing April 9 . . .

1971,
The Rolling Stones
released 'Brown Sugar' taken from their latest album Sticky Fingers, the first record on their own label, Rolling Stones Records, which introduced the infamous licking- tongue and lips logo.
1973,
Bob Marley and the Wailers
released Catch a Fire their first album on Island Records and which is now regarded as one of the greatest reggae albums of all time. The album was also groundbreaking as its singles were released as long-playing records as against to the early reggae songs coupled with two sides.
1979,
Thin Lizzy
released their ninth studio album Black Rose: A Rock Legend. The album, which featured guitarist
Gary Moore
, contained the hits 'Do Anything You Want To', 'Waiting For An Alibi' and 'Sarah', which was written with Moore about Lynott's newborn daughter.
2002, Thieves broke in to a house in Bexhill, Sussex and stole a hi-fi system and several CDs. They left albums by
Madonna, Robbie Williams
and
Oasis
but took the owners entire
Showaddywaddy
collection.
2008, Producer and drummer
Clifford Davies
was found dead from a self-inflicted gunshot wound in his home in Atlanta, aged 59. Davies had worked with
Ted Nugent
from 1979-1982. It was reported that Davies was "extremely distraught" over outstanding medical bills.
2009,
Procol Harum
's 'A Whiter Shade Of Pale' was the most played song in public places in the past 75 years, according to a chart compiled for BBC Radio 2.
Queen
's Bohemian Rhapsody was at number two followed by 'All I Have To Do Is Dream' by the
Everly Brothers
.
Wet Wet Wet
's 1994 hit, 'Love Is All Around', was at number four followed by
Bryan Adams
's 1991 hit '(Everything I Do), I Do It For You.'
2011, A portrait of
Pink Floyd
founder
Syd Barrett
was returned to the London art gallery it had been stolen from the previous week. The late singer's former girlfriend, Libby Gausden, pleaded for its safe return and offered a reward of £2,000, and following an appeal, the image was returned undamaged and intact to the gallery by post.
2012, Five of
Tom Petty
's guitars were stolen from a soundstage in Culver City, California, where Petty and his band, the
Heartbreakers
, were rehearsing for their upcoming worldwide tour. The stolen gear included a 1967 Blonde Rickenbacker, a 1967 Epiphone Sheridan, a 1965 Gibson SG TV Jr., a Fender Broadcaster and a Dusenberg Mike Campbell Model, which belonged to Campbell himself. Petty was offering a "no questions asked" reward bounty of $7,500 to anyone with information leading to the guitars' recovery.
1962,
The Beatles
original bass player
Stuart Sutcliff
died (bassist for eighteen months; January 1960 - June 1961). Sutcliff had stayed in Hamburg Germany after leaving the group. He died of a brain haemorrhage in an ambulance on the way to hospital, aged 22.
1970,
Doors
singer
Jim Morrison
was dragged off stage by keyboardist Ray Manzarek during a concert in Boston, after Morrison asked the audience,
'Would you like to see my genitals?'.
Theater management quickly switched off the power. Morrison had been arrested in Miami a year earlier for "lewd and lascivious behavior" during a performance.
1970, 27 year-old
Paul McCartney
issued a press statement, announcing that
The Beatles
had split (one week before the release of his solo album). McCartney said,
"I have no future plans to record or appear with The Beatles again, or to write any music with John"
.
John Lennon,
who had kept his much-earlier decision to leave The Beatles quiet for the sake of the others, was furious. When a reporter called Lennon to comment upon McCartney's resignation, Lennon said,
"Paul hasn't left. I sacked him."
1984,
Nate Nelson
(born today Tuesday in 1959), lead vocalist for
The Flamingos
on their 1959 hit 'I Only Have Eyes For You', died of heart disease aged 52, a day after his wife had made a plea to his fans to find a heart for her ailing husband.
1967,
The Doors
and
The Jefferson Airplane
appeared at Cheetah, Santa Monica Pier, Venice, California. This was the largest show The Doors had played to date with a crowd of over 3,000.
1969,
Bob Dylan
released his ninth studio album Nashville Skyline, which embraced country music. With liner notes by
Johnny Cash
(who also appeared on the record), at the time of release it was dismissed by some critics as lightweight, but included 'Lay, Lady, Lay', a major hit single for Dylan. The album also gave Dylan his fourth No.1 album.
1988,
Dave Prater
of soul duo
Sam & Dave
was killed when his car left the road and hit a tree in Syracuse, Georgia, on his way to his mother's house in Ocilla. He was 50. Recorded for Stax Records from 1965 - 1968, hits included 'Soul Man' and 'Hold On, I'm Coming.'
1991, Record producer Martin Hannett died. He worked with many Manchester acts including
The Smiths, New Order,
Joy Division, Happy Mondays, Magazine,
as well as
U2
and
The Psychedelic Furs
.
1946, Born on this day (Monday),
Les Gray
, singer with glam rock band
Mud
who had the 1974 No.1 single 'Tiger Feet' which was the best-selling single of 1974 plus 14 other UK Top 40 singles. Gray died from throat cancer on 21 Feb 2004 aged 57.
Week commencing April 2 . . .

1979,
Siouxsie And The Banshees
played a charity gig for MENCAP, but after crowd trouble were latter faced with a £2,000 bill for seat damage.
1981, Producer and manager
Kit Lambert
died of a cerebral hemorrhage after falling down a flight of stairs at his mother's home in London, England. Lambert managed
The Who
from 1964-1967 and produced the 'Tommy' album. Also produced
Arthur Brown
's 1968 hit 'Fire'.
1988, During a European tour,
Alice Cooper
accidentally hung himself in a rehearsal when a safety rope snapped; he dangled for several seconds before a roadie saved him.
1994,
Lee Brilleaux
, singer, harmonica player and founding member of
Dr Feelgood
died of throat cancer aged 41. They had the 1979 UK No.9 single 'Milk And Alcohol' and the 1976 UK No.1 live album, 'Stupidity'. In 1976, Brilleaux helped fund
Stiff Records
one of the driving forces of the "New Wave" of the mid- to late-1970s, with a loan from singer-songwriter
John Hiatt
.
2000,
Heinz
, bass player and singer with
The Tornados
died aged 57. The group had the Joe Meek produced 1962 UK & US No.1 single 'Telstar', making them the first UK group to score a US No.1 single. Heinz had the 1963 solo hit 'Just Like Eddie', a tribute to
Eddie Cochran
(which featured future
Deep Purple
guitarist
Ritchie Blackmore
).
2013,
Andy Johns
, the veteran producer and engineer who worked on classic albums by
Led Zeppelin
(Led Zeppelin II and all albums through to Physical Graffiti),
the Rolling Stones
(Sticky Fingers,
Exile On Main Street
); Jimi Hendrix, Van Halen
and many others, died at the age of 61.
2016, American singer, songwriter, and guitarist
Jimmie Van Zant
died in a hospice in Florida after several years of treatment for liver cancer. He began playing guitar and piano as a child, mentored by his cousin Ronnie Van Zant, but largely gave up music until the 1977 plane crash in which Ronnie, the founder and lead singer of
Lynyrd Skynyrd
, was killed. He then then took up a career playing Southern rock music.
1967,
The Jimi Hendrix Experience, The Walker Brothers, Engelbert Humperdink
and
Cat Stevens
played two shows at Bournemouth Winter Gardens.
1970,
Brinsley Schwarz
's promotion company sent 133 UK journalists by plane to New York to see the band supporting
Van Morrison
at the Fillmore East, at a cost of £120,000. The event turned into a disaster. The group planned to leave a few days before the show to rehearse, but were denied visas on a technicality. They were finally given visas on the morning of the show, and arrived hours before the concert. The plane carrying the journalists developed a mechanical fault, delaying the flight and when the journalists arrived In New York 18 hours later, they were all hung over. Brinsley Schwarz gave a underwhelming live performance, resulting in a flood of scathing reviews.
1982, 'Layla'
was on the UK singles chart. The re-released track originally featured on the
Derek and the Dominos
album Layla and Other Assorted Love Songs (November 1970). Inspired by Clapton's then unrequited love for Pattie Boyd, the wife of his friend
George Harrison,
'Layla' is considered one of rock music's definitive love songs, and features an unmistakable guitar figure played by
Eric Clapton
and
Duane Allman
.
2013, Former
Rolling Stones
bassist
Bill Wyman
turned himself in to British police after reports emerged suggesting he began a sexual relationship with his second wife, Mandy Smith, when she was 14 years old. After a brief meeting, the authorities decided not to pursue charges.
2016, It was reported that
David Bowie
had dominated the album charts for the first quarter of 2016. Bowie had the most entries to the chart with six albums in the top 40, after fans sought out his music in the wake of his death in January with his final album Blackstar becoming the second best selling album of the year so far.
1971
, The Temptations
scored their second US No.1 with 'Just My Imagination (Running Away With Me)'. The track is considered one of the Temptations' signature songs, and is notable for recalling the sound of the group's 1960s recordings. It is also the final Temptations single to feature founding members Eddie Kendricks and Paul Williams.
1975,
Steve Miller
was charged with setting fire to the clothes of a friend, Benita Diorio. When police arrived at Miller's house, Diorio was putting out the flames, Miller then got into a fight with some of the policemen and was charged with resisting arrest.
2006, Founder member and original drummer for
The Wonder Stuff
,
Martin Gilks
died aged 41, after losing control of his motorbike in London. Gilks was voted the best drummer on the planet in an NME poll in 1989.
2015,
Bob Burns
, the American drummer who was in the original line-up of the Southern rock band
Lynyrd Skynyrd
died in a car crash in Georgia when his car struck a mailbox and a tree with the front of the vehicle. Burns was the only occupant of the car and was not wearing a seat belt at the time of the crash. He appeared on the band's 'Sweet Home Alabama,' 'Gimme Three Steps' and 'Free Bird.'
Week commencing March 26 . . .

1963,
The Chiffons
started a four week run at No.1 on the US singles chart with 'He's So Fine', which was a No.16 UK hit. In 1971
George Harrison
was taken to court accused of copying the song on his 1970 'My Sweet Lord' and ordered to pay £345,000 to the writers.
1963, 16 year-old
Lesley Gore
recorded her breakthrough hit, 'It's My Party'. The song produced by Quincy Jones went on to be a US No.1.
1976, The
Sex Pistols
played their first show at The 100 club, London. They begin a weekly residency at the club in June.
2000,
Rolling Stone Mick Jagger
made a nostalgic visit to his old school. He opened the new arts centre that had been named after him at Dartford Grammar. The singer said he had spent the worst years of his life at the school.
2000,
Mungo Jerry
singer
Ray Dorset
was ordered to pay a former employee £620 in back wages after a tribunal heard he had harassed her after she left his company. Dorset told the court he had paid her double pay by mistake for ten months.
1950, Born on this day (Friday),
Dave Ball, Procol Harum
, 1967 UK No.1 & US No.5 single 'A Whiter Shade Of Pale'
(one of the few singles to have sold over 10 million copies) and scored the hits 'Homburg', 'Conquistador'.
1966,
Rolling Stone
Mick Jagger was injured during a gig in Marseilles, Southern France after a fan threw a chair at the stage. Jagger required eight stitches in the cut.
1969,
John Lennon
and
Yoko Ono
,
Black Sabbath, The Crazy World Of Arthur Brown, Curved Air, J.J. Jackson's Dilemma, Shy Limbs, Spontaneous Music Ensemble, Sunflower Brass Band
and
Toe Fat
all appeared at the London Free Easter Festival in Bethnal Green.
1973,
Dr Hook And The Medicine Show
got their picture on the cover of Rolling Stone magazine after their hit, 'The Cover of Rolling Stone' reached No. 6 on the US singles chart. According to members of the group, they really did buy five copies for their mothers, just like the song said.
1975,
Led Zeppelin
saw all six of their albums in the US Top 100 chart in the same week, alongside their latest album Physical Graffiti
at No.1. Physical Graffiti has now been certified 16 times Platinum by the Recording Industry Association of America (RIAA) for US sales in excess of 16 million copies.
1980,
Pink Floyd
's
The Dark Side of The Moon
album spent its 303rd week on the US album chart, beating the record set by Carole King's 1971 No.1 album Tapestry. The album remained in the US Billboard charts for 741 discontinuous weeks from 1973 to 1988, longer than any other album in chart history. After moving to the Billboard Top Pop Catalog Chart, the album notched up a further 759 weeks, and had reached a total of over 1,500 weeks on the combined charts by May 2006.
1996, Two former members of the 1950s group,
The Teddy Bears
filed suit in Los Angeles, California, against producer Phil Spector and several labels. Carol Connors and Marshall Lieb alleged they had not received royalties from re-issues of their 1958 No.1 hit 'To Know Him Is To Love Him'.
2000,
Phil Collins
took out a high court action against two former members of
Earth, Wind And Fire
. Collins claimed his company had overpaid the musicians by £50,000 in royalties on tracks including 'Sussudio' and 'Easy Lover'.
1968,
Pink Floyd
recorded a performance for the BBC 2 TV Omnibus - The Sound of Change show from Barnes Common, London. The special, which was produced by Tony Palmer, also featured performances by
The Who,
Cream
and
The Jimi Hendrix Experience.
The show was later broadcast in September of this year.
1973,
Led Zeppelin
released their fifth studio album
Houses Of The Holy in the UK. The album title was a dedication by the band to their fans who appeared at venues they dubbed 'Houses of the Holy'. The cover is a collage of several photographs which were taken at the Giant's Causeway, Northern Ireland, by Aubrey Powell of Hipgnosis. The two children who modelled for the cover were siblings Stefan and Samantha Gates.
1982
, David Crosby
was arrested after crashing his car on the San Diego Highway. Police also found cocaine and a pistol in the
Crosby Stills & Nash
star's car. When the police asked Crosby why he carried the gun, his reply was,
"John Lennon".
2013, American rock guitarist and session musician
Hugh McCracken
died of leukemia in New York City at the age of 70. He appeared on many recordings by
Steely Dan, Donald Fagen, Billy Joel, Roland Kirk, Roberta Flack, B. B. King, John Lennon, Paul McCartney, The Monkees, Paul Simon, Art Garfunkel, James Taylor, Phoebe Snow, Bob Dylan, Carly Simon, Graham Parker, Eric Carmen, Loudon Wainwright III, Aretha Franklin, Van Morrison, The Four Seasons, Daryl Hall & John Oates, Gary Wright
and
Andy Gibb
. Because of such high demand for his work, McCracken declined Paul McCartney's invitation to help form his new band,
Wings
, after appearing on his 1971 album Ram.
1949, Born on this day (Wednesday),
Sally Carr,
singer from Scottish pop group
Middle Of The Road
, who had the 1971 No.1 single 'Chirpy Chirpy Cheep Cheep', which is one of only a few singles to have sold in excess of 10 million physical copies.
Week commencing March 19 . . .

1973, During a
Lou Reed
show in Buffalo, New York, a fan jumped on stage and bit Lou on the bottom. The man was thrown out of the theatre and Reed completed the show.
1976, Transvestite singer
Wayne County
appeared in court charged with assault after an incident at New York club CBGBs. County had attacked
Dictators
singer
Handsome Dick Manitobe
with a mike stand fracturing his collarbone.
2001, A stretch of road on Highway 19 in Macon, Georgia, was named Duane Allman Boulevard, near where
The Allman Brothers Band
guitarist died aged 24 in a motorcycle crash on October 29, 1971.
2013, Pictures of
The Beatles'
1965 Shea Stadium concert, taken by an amateur photographer who bluffed his way backstage, sold for £30,000 at auction. Marc Weinstein used a fake press pass to get next to the stage for the historic New York show. His 61 black and white images with copyright fetched £30,680, the successful bidder was a South American gentleman currently living in Washington who is a huge collector of Beatles memorabilia.
1962,
Bob Dylan's
debut album Bob Dylan was released in the Untied States. Initially poor sales led the record to be known around Columbia Records as 'Hammond's Folly' (John Hammond was producer of Dylan's early recordings and the man responsible for signing Dylan). The album was praised by the New York City weekly newspaper Village Voice as an 'explosive country blues debut', but featured only two Dylan original compositions, Talkin' New York and Song To Woody, the rest being old folk standards.
1965, The Tailor And Cutter Magazine ran an article asking
The Rolling Stones
to start wearing ties. The current fashion did not include wearing ties with shirts and many tie-makers were facing financial disaster. Mick Jagger said of the appeal,
"The trouble with a tie is that it could dangle in the soup. It is also something extra to which a fan can hang when you are trying to get in and out of a theatre."
1976,
Paul Kossof
, guitarist with
Free
and
Back Street Crawler
died aged 25, of heart failure during a flight from Los Angeles to New York. Kossof had a long history of drug abuse. Free had the 1970 No.2 & US No.4 single 'All Right Now'. His first band was
Black Cat Bones
alongside drummer
Simon Kirke
(later of Free), and then he formed Back Street Crawler after leaving Free.
1982, Guitarist and former
Quiet Riot
member
Randy Rhoads
was killed when the plane he was riding in crashed. After driving much of the night, the band had stopped near a small airstrip. The tour bus driver, Andrew Aycock, talked the band's keyboardist, Don Airey, into taking a test flight in a '55 Beechcraft Bonanza, the joyride ended and the plane landed safely. Then Aycock took Rhoads and Rachel Youngblood on another flight and attempts were made to "buzz" the tour bus. The left wing clipped the bus, which sent the plane spiralling into a nearby house and bursting into flames. All three bodies were burned beyond recognition, and were identified by dental records.
1946, Born on this day (Monday),
Paul Atkinson
, guitarist with
The Zombies
who had four US hits, 'She's Not There', 'Tell Her No', 'She's Coming Home', and 'Time of the Season'. He later became an A&R executive, working for Columbia and RCA, discovering and signing such bands as
ABBA, Bruce Hornsby, Mr. Mister, Judas Priest,
and
Michael Penn
. Atkinson died on 1st April 2004 aged 58.
1953, Born on this day (Monday),
Ricky Wilson
, guitarist, with the American new wave band
The B-52s
. Best known for their 1978 debut single 'Rock Lobster and the 1990 UK No.2 & US No.3 single 'Love Shack'. Wilson died on October 12th 1985 aged 32.
Week commencing March 12 . . .

1965, The groundbreaking Motortown Revue landed at the Finsbury Park Astoria, London, on the first night of a package tour that took them around the UK visiting 21 theatres for two shows a night, plus a live TV special. Topping the bill was
Smokey Robinson and the Miracles, Supremes, Martha & The Vandellas
, and 14 year-old
Little Stevie Wonder
all backed by the legendary
Funk Brothers
.
1967, The New Musical Express announced that former
Spence Davis Group
member Steve Winwood was planning to form a new group with Jim Capaldi, Chris Wood and Dave Mason. The ensemble would choose the name
Traffic
.
1972,
T Rex
played the first of two sold out nights at Wembley's Empire Pool;
Ringo Starr
filmed the shows for the 'Born To Boogie' Apple documentary.
1977,
The Clash
released their debut single 'White Riot.' The song is in the typical punk style of three chords played very fast. Mick Jones counts off "1-2-3-4" at the start of the album version while the single version begins with the sound of a police siren instead.
2001, American singer, guitarist, and songwriter
John Phillips
of
Mamas and The Papas
died of heart failure aged 65. His first band,
The Journeymen
, were a folk trio, Mamas and The Papas had the US No.1 'Monday, Monday'. Phillips was married to Michelle Gilliam, they had one child together, Chynna Phillips, vocalist of the 1990s pop trio Wilson Phillips. His second solo album was released on Rolling Stones records and featured
Mick Jagger,
Keith Richards,
Mick Taylor
and
Ronnie Wood.
2002,
Ramones
were inducted into the Rock and Roll Hall of Fame by Eddie Vedder, lead singer of
Pearl Jam
and close friend of the Ramones. The ceremony took place at the Waldorf Astoria Hotel in New York City.
2011, Organisers of an attempt to reunite 19 people who watched
The Beatles
play in a town hall in 1963 had claims from 24 people who said they were there. Billy Shanks was helping to lead the search for the audience members of the gig in Dingwall, Ross-shire, Scotland in 1963. He said some who turned up thought the music was rubbish and left to join an audience of 1,200 watching a local band in nearby Strathpeffer.
2017,
Chuck Berry
died aged 90. The American guitarist, singer and songwriter was one of the pioneers of rock and roll music. With songs such as 'Maybellene' (1955), 'Roll Over Beethoven' (1956), 'Rock and Roll Music' (1957) and 'Johnny B. Goode' (1958), Berry refined and developed rhythm and blues into the major elements that made rock and roll distinctive.
1970, Motown singer
Tammi Terrell
died of a brain tumour at the age of 24. She had collapsed onstage on October 14, 1967 into
Marvin Gaye's
arms during a concert in Hampton, Virginia. Initially Terrell recorded solo, but from 1967 onwards she recorded a series of duets with Marvin Gaye, including the 1967 US No.5 'Your Precious Love' and the 1968, 'Ain't Nothing Like the Real Thing'. Marvin Gaye reacted to her death by taking a four year hiatus from concert performance and went into self-isolation.
1977, After being with the label for just six days the
Sex Pistols
were fired from A&M due to pressure from other label artists and its Los Angeles head office. 25,000 copies of 'God Save The Queen' were pressed and the band made £75,000 from the deal.
2010, A rare
Led Zeppelin
recording from the group's 1971 gig at St Matthew's Baths Hall in Ipswich, was unearthed at a car boot sale. The bootleg copy of the audio from the group's gig on November 16th 1971 was picked up for just "two or three pounds" by music fan Vic Kemp.
"I was going through a stand of CDs at the car boot at Portman Road and the guy who was selling them said, 'You might be interested in this,'"
Vic Kemp told the Evening Star.
"It must have been recorded by someone standing at the front with a microphone. You can hear Robert Plant talking to the audience quite clearly."
2015, Andy Fraser, songwriter and bass guitarist with
Free,
died of a heart attack caused by Atherosclerosis, in California aged 62. The London-born musician became a founding member of the British group when he was just 15 and went on to write most of the material with lead singer Paul Rodgers, including Free's 1970 hit 'All Right Now', 'My Brother Jake' and 'The Stealer'. Fraser also penned 'Every Kinda People', a hit for
Robert Palmer
as well as songs for
Joe Cocker, Chaka Khan, Rod Stewart
and
Paul Young
.
1964, For the first time in British recording history, all Top Ten singles in the UK were by British acts. No.1 was 'Anyone Who Had A Heart' by
Cilla Black
, No.2 - 'Bits and Pieces' by
The Dave Clark Five
, No.3 - 'Little Children' by
Billy J Kramer
, No.4 - 'Diane' by
The Bachelors
, No.5 - 'Not Fade Away' by
The Rolling Stones,
No.6 - 'Just One Look' by
The Hollies
, No.7 - 'Needles and Pins' by
The Searchers
, No.8 - 'I Think Of You' by
The Merseybeats
, No.9 - 'Boys Cry' by
Eden Kane
, and No. 10 - 'Let Me Go Lover' by
Kathy Kirby
.
1982,
Metallica
made their live debut when they appeared at Radio City in Anaheim, California. Metallica formed in Los Angeles, California, in late 1981 when Danish-born drummer Lars Ulrich placed an advertisement in a Los Angeles newspaper, The Recycler, which read,
"Drummer looking for other metal musicians to jam with Tygers of Pan Tang, Diamond Head and Iron Maiden."
Guitarists James Hetfield and Hugh Tanner of
Leather Charm
answered the advertisement.
2001, Peter Blake, who designed
The Beatles
classic
Sgt. Pepper
album cover sued the group's record company for more money. Blake was paid £200 for the famous figures in 1967, but was now 'cheesed off' that EMI had never offered to pay more money.
2008, Peter MacBeth, a member of
The Foundations
who had the 1968 UK hit with 'Build Me Up Buttercup', was jailed for child sex offences. MacBeth sexually assaulted a young girl on four occasions over the course of six years and downloaded child porn from the internet. The 71-year-old was suffering from cancer and had had he a tracheotomy which meant he lost his voice. Doctors had said he had between three and five years to live.
2010, Phil Blake of indie band
Redtrack
returned to his career as the bassist with the band after he underwent a pioneering operation to reattach his hand after it was hacked to the bone in a machete attack. Blake thought he would never play guitar again after a teenage robber hacked through his arm when he refused to hand over a mobile phone.
1978, The debut single from
Kate Bush,
'Wuthering Heights' a song inspired by the Emily Bronte novel, started a four-week run at No.1 on the singles chart. EMI had originally chosen another track, 'James and the Cold Gun' as the lead single, but Bush was determined that 'Wuthering Heights' would be the first release from the album.
2005, The front door of
Ozzy Osbourne's
childhood home in Birmingham went up for sale because the current owner was fed up with fans defacing it. Ali Mubarrat, who now owned the house in Lodge Road, Aston, said over the years it had become a pilgrimage destination. He was now auctioning the door on eBay and giving the money to charity.
2009,
Iron Maiden
's tour manager criticised people who were arrested for trying to gatecrash a concert in Bogota. Colombian police arrested more than 100 people after stones were thrown hours before the group were due to perform. In a statement posted on the band's website, Rod Smallwood said:
"We abhor the inane behaviour of a small minority of people outside."
Riot police fired tear gas canisters at those who tried to enter the concert without tickets.
2011, The former singer with
Iron Maiden
was jailed for nine months for fraudulently claiming benefits.
Paul Andrews
, fronted the band between 1978 and 1981, under the stage name Paul Di'Anno. Andrews, 52, was jailed at the city's crown court after earlier admitting falsely claiming more than £45,000. Fraud investigators had viewed online videos and read about gigs on the performer's website.
2015, Jimmy Greenspoon, keyboardist with
Three Dog Night
died after a long battle with cancer at the age of 67. During the course of their career, Three Dog Night had 21 top 40 hits, including three No.1 singles.
2016, English musician
Keith Emerson
died in Santa Monica, California, of a self-inflicted gunshot wound to the head after he had become "depressed, nervous and anxious" because nerve damage in his hands had hampered his playing. Emerson found his first commercial success with
the Nice
, in the late 1960s and was a founding member of
Emerson, Lake & Palmer
(ELP), one of the early progressive rock supergroups.
Week commencing March 5 . . .

1965, During a
Rolling Stones
gig at The Palace Theatre in Manchester, a female fan fell from the circle while the group were playing. The crowd below broke her fall and the girl escaped serious injury just breaking a few teeth.
1966, Mike Millward guitarist from
The Fourmost
died, aged 23. The Liverpool group, who were managed by Brian Epstein, had the 1964 No.6 single 'A Little Loving'.
1966,
Tina Turner
recorded her vocal on the Phil Spector produced 'River Deep Mountain High'. It went on to make No.3 in the UK but only No.88 on the US chart. Spector was well aware of Ike Turner's controlling attitude in the studio, and therefore he drafted an unusual contract: the River Deep, Mountain High album and single would be credited to Ike & Tina Turner, but Ike was paid $20,000 to stay away from the studio, and only Tina Turner's vocals would be used on the record. Session musicians who played on the track included
Leon Russell
(keyboards),
Glen Campbell
(guitar), and
Hal Blaine
(drums).
1969,
Led Zeppelin
appeared at the Bluesville 69 Club at the Hornsey Wood Tavern, Finsbury Park, London. The venue was a function room at the back of the pub, and was so small that the stage was only just big enough for
John Bonham's
drums, and the rest of the group had to stand on the floor at the same level as the crowd.
2001, The man who discovered
Blur
,
David Balfe
won a high court battle to earn £250,000 in back royalties. Balfe had waged a legal battle for over two years to regain the royalties after selling his Food Records label to EMI in 1994.
2012, Sales of albums by
The Monkees
soared following the death of singer
Davy Jones
. 'Best Of The Monkees' re-entered the Billboard album chart at No.20 with sales of over 17,000 units.
1970, Charles Manson released an album called 'Lie' to help raise money for his defence in the Tate-LeBianca murder trial. The album jacket was made to look like a cover of Life magazine with the letter f removed from the word Life. In the mid sixties, Manson had been a wanna-be musician who befriended
The Beach Boys
drummer Dennis Wilson, eventually talking the group into recording one of his songs, 'Cease To Exist'. The title was changed to 'Never Learn Not To Love' and was released as the B side of the single 'Bluebirds Over The Mountain', which eventually climbed to number 61 in the US in early 1969.
1970,
David Bowie
released the single 'The Prettiest Star' in the UK as a follow-up single to 'Space Oddity'. The track featured
Marc Bolan
on guitar, with whom Bowie would spend the next few years as a rival for the crown of the king of glam rock. Despite receiving good reviews, the single reportedly sold fewer than 800 copies, a major disappointment on the back of the success of 'Space Oddity'.
1971,
Led Zeppelin
appeared at the National Boxing Stadium, Dublin, the group's first show in Dublin, where they played 'Stairway To Heaven' live for only the second time.
1973,
Slade
scored their fourth No.1 single with 'Cum On Feel The Noize', the first single to enter the charts at No.1 since
The Beatles
'Get Back' in 1969.
Elton John
had the No.1 album with 'Don't Shoot Me I'm Only The Piano Player'.
2010,
Mark Linkous
, frontman with US band
Sparklehorse
committed suicide by shooting himself in the heart outside a friend's house in Knoxville, Tennessee. In 1996 Linkous "died" for two minutes after ingesting a mix of Valium and antidepressants while supporting
Radiohead
on tour in the UK. He recovered, but the incident left him paralysed, after lying unconscious for 14 hours, with circulation to his legs cut off. He suffered a heart attack when doctors tried to straighten the limbs, and had surgery seven times to save his legs.
1965,
The Mannish Boys
released their second single 'I Pity The Fool', featuring a young
David Bowie.
Produced by Shel Talmy (who was also producing the early singles and albums by The Who and The Kinks). Jimmy Page was Talmy's regular session musician and played the guitar solo on 'I Pity the Fool'.
1971,
Led Zeppelin
started a 12-date 'Thank You' tour for British fans, appearing at the clubs from their early days and charging the same admission prices as in 1968. The first show was at The Ulster Hall, Belfast, Northern Ireland where they played songs from their upcoming fourth album, including the first public performances of 'Black Dog', 'Stairway To Heaven',
'Going To California' and 'Rock And Roll'.
1995,
Viv Stanshall
of
The Bonzo Dog Doo Dah Band
was killed in a house fire. The English singer-songwriter, painter, musician, author, and poet is best known for his work with the Bonzo Dog Doo-Dah Band, for his surreal exploration of the British upper classes in Sir Henry at Rawlinson End, and for narrating
Mike Oldfield
's Tubular Bells.
2004, Guitarist
John McGeoch
died in his sleep aged 49. He had been a member of
Magazine
, who had the 1978 No.41 single 'Shot By Both Sides', and also worked with
Siouxsie And The Banshees, Armoury Show
and
Public Image Ltd
.
2005, A commemorative plaque for the
The Jimi Hendrix Experience
was unveiled in Loisin-sous-Lens. Hendrix had appeared at The Twenty Club when it opened in 1967. It was his first European tour where he was totally unknown. Club owner Rikki Stein stated:
"The place was packed and at the end of 'Wild Thing', his first number, there was total silence. The entire audience just stood there, open-mouthed. They'd never seen or heard anything like it in their life."
Week commencing February 26 . . .
1968, 25 year old
Frankie Lymon
, lead singer of
The Teenagers
, died of a heroin overdose in his grandmother's New York home. Lymon was on leave from a Georgia Army post at the time and was scheduled to record for Roulette Records the next day. He first hit the national charts in 1956 when he was just 13 with 'Why Do Fools Fall in Love'.
1970, In an interview with the New Musical Express,
Fleetwood Mac
's
Peter Green
talked about his plans to give all his money away. The following year Green confronted his accountant with a gun after he sent him an unwanted royalty check. The guitarist went to jail briefly before being transferred to an asylum and was committed to a mental hospital in 1973. He re- launched his career in the 90s.
1970,
Led Zeppelin
played a gig in Copenhagen as
The Nobs
after Eva Von Zeppelin, a relative of the airship designer, threatened to sue if the family name was used in Denmark.
1974, Singer songwriter
Bobby Bloom
shot himself dead at his Hollywood apartment aged 28. Bloom had the 1970 US No.8 & UK No.3 single 'Montego Bay'.
1985,
David Byron
, singer with
Uriah Heep
died from an epileptic fit and liver disease aged 38. Had a hit with 'Easy Livin' from the 1972 album Demons and Wizards.
2006, Two stewards were shot during a concert by rapper
Kanye West
at the NEC in Birmingham. Police said the shootings took place after people who tried to gain entrance without tickets were escorted from the arena. A man, who had no ticket, entered the foyer and was ejected, he then returned and shot at the stewards, one was in a serious condition after being shot in the face.
2010,
Tom "T-Bone" Wolk
, who played bass for nearly 30 years with
Daryl Hall And John Oates
died of an apparent heart attack at the age of 58. He had also recorded with
Carly Simon, Jellyfish, Squeeze, Elvis Costello, Shawn Colvin
and
Billy Joel
over the course of his career.
1965,
Jimmy Page
released a solo single called 'She Just Satisfies' in the UK. Page played all the instruments on it except for the drums, and produced the track, as well as singing lead vocals.
1969,
Peter Sarstedt
started a four week run at No.1 on the singles chart with 'Where Do You Go To My Lovely?' Some say the song was written about the Italian star Sophia Loren, but Peter Sarstedt has stated he wrote the song about a girl he fell madly in love with in Vienna in 1965, who later died in a hotel fire.
1979, During a court case between the
Sex Pistols
and their manager Malcolm McLaren it was revealed that only £30,000 was left of the £800,000 the band had earned.
1997, American songwriter
Ben Raleigh
died in a fire in his kitchen after setting fire to his bath robe while cooking. He co-wrote 'Scooby Doo Where Are You' and 'Tell Laura I Love Her.'
2009, A 10-minute version of
The Beatles
'Revolution 1' was leaked onto the internet, giving fans a never-before-heard listen of what The White Album sessions must have been like. Only two copies of the take were made when the song was completed on June 4th, 1968. One copy left the studio with Lennon that day and the other remained behind. It was unclear which copy appeared on the bootleg, nor how anyone acquired it.
Week commencing February 19 . . .
1974,
Suzi Quatro
was at No.1 on the singles chart with 'Devil Gate Drive', the singers second UK No.1 and fourth No.1 for the songs writers Chinn & Chapman.
1974, 'Rebel Rebel' by
David Bowie
entered the chart, the single reached No.5 the following month. Originally written for an aborted Ziggy Stardust musical in late 1973, 'Rebel Rebel' was Bowie's last single in the glam rock style that had been his trademark. It was also his first hit since 1969 not to feature lead guitarist
Mick Ronson
; Bowie himself played guitar on this track.
1976,
AC/DC
shot the video clip for "It's A Long Way To The Top (If You Wanna Rock 'n' Roll)" for the Australian music television program Countdown. It featured the band's then-current lineup, along with members of the Rats of Tobruk Pipe Band, on the back of a flat-bed truck travelling on Swanston Street in Melbourne. In May 2001, Australasian Performing Rights Association celebrated its 75th anniversary by naming the Best Australian Songs of all time, as decided by a 100-member industry panel. "It's a Long Way to the Top (If You Wanna Rock 'n' Roll)" was ranked as the ninth song on the list.
2003,
Howie Epstein
bassist with
Tom Petty and the Heartbreakers
died of a suspected drug overdose in New Mexico. He had replaced The Heartbreakers original bassist Ron Blair, Epstein also worked with
Bob Dylan,
Johnny Cash,
Stevie Nicks
,
Roy Orbison,
Carl Perkins, Linda Ronstadt
and
Del Shannon
.
1967,
Pink Floyd
started their first sessions at the EMI Studios, St. John's Wood, London on their debut album The Piper At The Gates Of Dawn, working on the song 'Matilda Mother'. While Pink Floyd were recording their album with former Beatles engineer Norman Smith,
The Beatles
themselves were working in the studio next door, recording 'Fixing A Hole' for their Sgt. Pepper album. Micky Dolenz from
The Monkees
attended the mixing session during the day.
1972,
Led Zeppelin
released
'Rock And Roll / Four Sticks'
as a 7 inch single in the US, peaking at No.47 on the chart. The song was written as a spontaneous jam session, whilst the band were trying to finish 'Four Sticks'. Drummer
John Bonham
played the introduction to
Little Richard's
'You Keep A-Knockin' and
Page
added a guitar riff; with the tapes rolling the basic song was finished fifteen minutes later.
1986,
Metallica
released their third album, the highly influential album, Master of Puppets, considered by many in the metal community to be the best metal album of all time. This was the last Metallica album with bassist
Cliff Burton
who was killed when the group's tour bus over-turned in southern Sweden while touring to promote the album.
2004,
Mud
singer
Les Gray
died of a heart attack, whilst fighting throat cancer, aged 57 (1974 UK No.1 single 'Tiger Feet' plus 14 other UK Top 40 singles').
2014, A statue of a weeping
Kurt Cobain
was unveiled in Aberdeen, Washington - the hometown of the late Nirvana frontman. The statue, which sees Cobain crying a single tear, is situated in the Aberdeen Museum of History. Kurt Cobain Day would now be celebrated annually in the city of Aberdeen. Of the day, Mayor Bill Simpson recently read a proclamation, which stated:
"Aberdeen residents may justifiably take pride in the role our community played in the life of Kurt Cobain and the international recognition our community has gained from its connections with Kurt Cobain and his artistic achievements."
2014, A crew member working on a biopic about
Gregg Allman
died after being hit by a train during filming. Police in south Georgia said the woman was struck after the crew for Midnight Rider placed a bed on the railway tracks in Doctortown. Wayne County Sheriff John Carter said several other people had been injured, two of them seriously.
1965,
The Kinks
were at No.1 with 'Tired Of Waiting For You', the group's second No.1. According to Ray Davies, the music for 'Tired of Waiting for You' was written on the train to the recording studio and the words were written at a coffee shop during a break in the session.
1972, On their first Australian tour,
Led Zeppelin
rescheduled to the following night their concert at the Memorial Drive, Adelaide, after heavy rain left the stage and equipment unsafe. Zeppelin had brought to Adelaide the largest PA system seen in Australia to produce what was expected to be the loudest rock show ever heard.
2000, An American court ordered the release of FBI files relating to
John Lennon's
interests and activities including his support for the Irish Republican cause and the Workers Revolutionary Party. The British Government told the US that it wanted the files to remain secret. MI5 also had files on Lennon, which they had passed on the FBI during the 70s.
Week commencing February 12 . . .

1970, On this day, Friday the 13th,
Black Sabbath
released their debut self-titled studio album on Vertigo records in the UK. Peaking at No.8 on the charts, the album has been recognised as the first main album to be credited with the development of the heavy metal genre.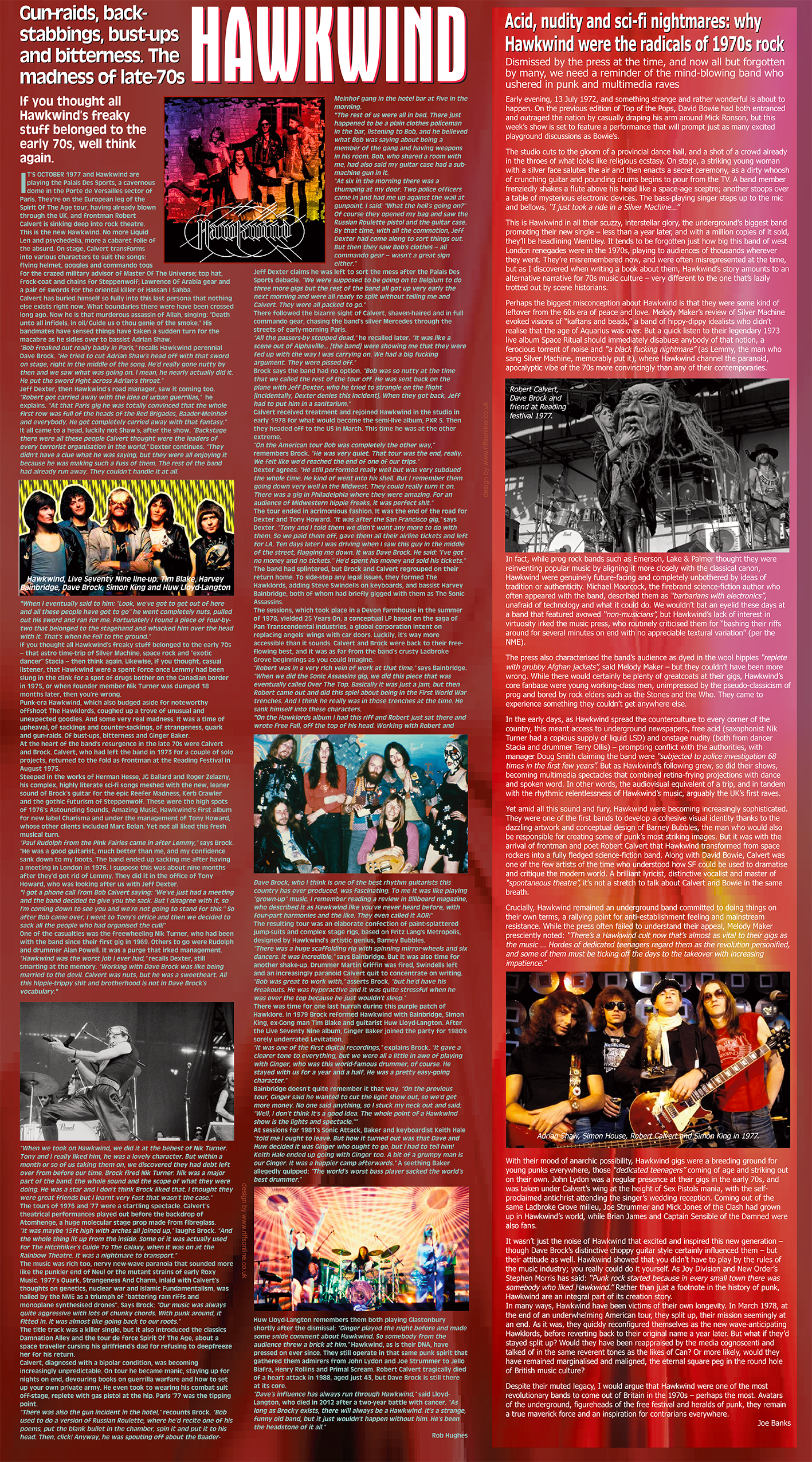 1972,
The Greasy Truckers
concert took place at the Roundhouse in London, featuring
Man, Brinsley Schwarz
and
Hawkwind
. The eveining was recorded and released as a double vinyl album, in a limited edition of 20,000 which sold at just £1.50. The release rapidly sold out, becoming a collector's item.
1980, Police raided the home of former
Sex Pistols
John Lydon, who greeted them waving a ceremonial sword. The only illegal item they found was a canister of tear gas, which Lydon claimed to be for defence against intruders.
2005, Readers of The Sun voted
George Michael
's 'Careless Whisper' as the greatest British pop single of the past 25 years.
Oasis
came second with 'Wonderwall' and
Kate Bush
third with 'Wuthering Heights'. The rest of the Top 10: No.4,
Robbie Williams
'Angels', No.5,
The Jam
'Going Underground', in equal 6th,
Sex Pistols
'God Save The Queen' and
Joy Division
'Love Will Tear Us Apart', 7th was
Queen
'We Are The Champions', 9th,
The Stone Roses
'Fool's Gold' and 10th
The Undertones
'Teenage Kicks'.
2016, All four members of English indie rock group
Viola Beach
; Kris Leonard (guitar and vocals), River Reeves (guitar), Tomas Lowe (bass guitar), and Jack Dakin (drums) along with their manager Craig Tarry, died in a car crash in Södertälje, Sweden. Witnesses said they saw the car fall through a gap on the E4 motorway bridge, which was open to let a boat pass. The band had played at the Where's the Music? festival in Norrköping the previous day. The band had been scheduled to support
Blossoms
on a tour of the UK and Ireland during February and March 2016. The following year Arriva Buses launched five buses in the home town of Viola Beach in Warrington. Each vehicle had a picture of one of the band members and their manager.
1968, Hal Cone former manager of
The Monkees
and Head of Jones Records was found guilty of theft, forgery, receiving stolen property and conspiracy.
1981, American singer and musician
Bill Haley
who became known as the first Rock 'n' Roll star, was found dead, fully clothed on his bed at his home in Harlingen, Texas from a heart attack, aged 55. He scored the 1955 UK & US No.1 single
'Rock Around the Clock' as well as 'See You Later, Alligator', 'Shake, Rattle and Roll', 'Rocket 88', 'Skinny Minnie', and 'Razzle Dazzle'. Haley was blinded in his left eye as a child due to a botched operation and later adopted his distinctive spit-curl hairstyle to distract attention from his blind eye.
1997, Scottish singer
Brian Connolly
with the Seventies Glam rock group
Sweet
died of kidney and liver failure aged 51. Connolly replaced
Ian Gillan
(later of
Deep Purple
and
Black Sabbath
) in
Wainwright's Gentlemen
who became
Sweetshop
and then shortened to
Sweet
. The group scored 15 UK top 40 hits including the 1973 No.1 hit 'Blockbuster'.
Week commencing February 5 . . .

1971,
Led Zeppelin
announced a small club tour which would see the group playing Universities and small venues with ticket prices at 12 shillings (60p). Zeppelin manager Peter Grant said
'We decided to do the clubs and forget about the bread and the big concert halls'
.
1982,
Kraftwerk
were at No.1 on the singles chart with 'The Model / Computer Love', the first German act to score a No.1 single. The single spent 21 weeks on the chart.
1990,
Billy Idol
suffered serious injuries when he failed to pull up at a stop sign and crashed from his Harley-Davidson motorbike into a car.
1996, Former
Jam
members Bruce Foxton and Rick Buckler reached a high court settlement with Paul Weller after suing him for more than £100,000, after claiming they were owed royalties and group assets.
1998, American singer and guitarist
Carl Wilson
from
The Beach Boys
died aged 51 after a long battle with lung cancer (Wilson was diagnosed with brain and lung cancer in early 1997). He sang lead vocal on 'God Only Knows', 'Good Vibrations,' and 'I Can Hear Music.' Wilson also sang backing vocals on
Elton John's
'Don't Let The Sun Go Down On Me.'
1998, Austrian singer
Falco (Johann Holzel)
was killed in a road accident after his car collided with a bus. He scored the 1986 UK & US No.1 single 'Rock Me Amadeus' making him the first-ever Austrian act to score a UK and US No.1 hit single.
2001, Guitarist
Don Felder
was fired from
The Eagles.
He would later launch a $50 million law suit against drummer Don Henley and guitarist Glen Frey, alleging wrongful termination and breach of implied-in-fact contract. Henley and Frey then countersued Felder for breach of contract, alleging that Felder had written and attempted to sell the rights to a "tell-all" book. Both parties settled out-of-court for an undisclosed amount.
2011, Irish guitarist and singer
Gary Moore
died aged 58 in his sleep of a heart attack in his hotel room while on holiday in Estepona, Spain. Moore had been a member of
Skid Row
,
Thin Lizzy,
and
Colosseum II
, before going solo, scoring the 1979 UK No.8 single 'Parisienne Walkways'. Moore's greatest influence in the early days was guitarist Peter Green of
Fleetwood Mac
, who was a mentor to Moore when performing in Dublin. His 1990 album Still Got the Blues featured contributions from
Albert King, Albert Collins, and George Harrison
.
Week commencing January 29 . . .

1967,
Pink Floyd
spent the day recording parts for the
Syd Barrett
songs 'Arnold Layne' and 'Candy And A Current Bun' at Sound Techniques Studios, Chelsea, London. Floyd also turned professional on this day after signing a deal with EMI Records.
1972,
Chuck Berry
had his first UK No.1 single with a live recording of a song he'd been playing live for over 20 years 'My Ding-a-Ling'. UK public morality campaigner Mary Whitehouse attempted to have the song banned due to its innuendo-laden lyrics.
The Average White Band
members guitarist Onnie McIntyre and drummer Robbie McIntosh played on the single.
1979,
Sex Pistols
bassist Sid Vicious was released on bail after attacking Todd Smith, singer
Patti Smith
's brother, at a
Skafish
concert.
John Lydon
has since stated that
Mick Jagger
stepped in and paid for the lawyers for Vicious.
1995,
Richey Edwards
guitarist with the
Manic Street Preachers
vanished leaving no clues to his whereabouts. He left The Embassy Hotel in London at 7am, leaving behind his packed suitcase. His car was found on the Severn Bridge outside Bristol sixteen days later. Edwards has never been found, despite constant searching, and in November 2008 he was declared officially dead.
Week commencing January 22 . . .
1968,
Pink Floyd
played their first gig without
Syd Barrett
at Southampton University. They were supported by
Tyrannosaurus Rex
(later to be renamed T Rex) featuring
Marc Bolan
and percussionist
Steve Peregrine Took
.
1973,
Sweet
were at No.1 on the UK singles chart with 'Blockbuster'. The glam rockers only No.1 of 15 Top 40 hits.
1975, The BBC 'Omnibus' documentary 'Cracked Actor' a film about
David Bowie
was shown on TV. Filmed in 1974 when Bowie was was a cocaine addict, the documentary has become notorious for showing Bowie's fragile mental state during this period.
1977, Former
Fleetwood Mac
guitarist
Peter Green
was committed to a mental hospital following an incident when he threatened his accountant Clifford Adams with an air rifle when he was trying to deliver a £30,000 royalty cheque to him.
1986, Allen Collins, guitarist from
Lynyrd Skynyrd
crashed his car, paralysing him from the waist down and killing his girlfriend Debra Jean Watts. Collins had survived a plane crash in 1977 that killed two other band members.
1989, American soul singer
Donnie Elbert
died of a stroke aged 52. In 1955 he formed a doo-wop group, the
Vibraharps
making his recording debut on their single 'Walk Beside Me' but it wasn't until the Seventies when he had major success with the solo hit 1972 US No. 22 & UK No.11 single 'I Can't Help Myself', Sugar Pie Honey Bunch', as well as the hits 'Where Did Our Love Go?' and 'A Little Piece of Leather'.
1948, Born on this day (Friday),
Corky Laing
, drummer with heavy rock group
Mountain
who had the 1971 album 'Nantucket Sleighride'. Also worked with Jack Bruce.
1969,
Pink Floyd
appeared at the Sixty Nine Club, Royal York Hotel, Ryde, Isle of Wight. Support band was
The Cherokees,
who had had a minor hit single in 1964 with Seven Golden Daffodils produced by Mickie Most. They later changed their name to
New York Public Library
.
1975, The last Sunbury Rock Festival in Victoria Australia was held. The promoters who had made heavy losses only paid
Deep Purple. AC/DC
were scheduled to play after Deep Purple but a fight started on stage between road crews after Purple's set when they began packing up the lights and PA and denied AC/DC use of them, who then left the festival site without playing at all.
1986, US manager Albert Grossman died of a heart attack while flying on Concorde from New York to London. He managed
Bob Dylan
(between 1962 and 1970),
Peter, Paul and Mary, The Band
,
Janis Joplin
and
Todd Rundgren
. Grossman built the Bearsville Recording Studio near Woodstock in 1969 and in 1970 he founded Bearsville Records.
1992, The inaugural Big Day Out festival took place at the Hordern Pavilion in Sydney. Acts appearing included,
Nirvana, Beasts of Bourbon, Box The Jesuits, Celibate Rifles, Cosmic Psychos, The Clouds, Club Hoy, Died Pretty, Falling Joys, The Hard Ons with Henry Rollins Hellmen, Massappeal, The Meanies, Smudge, Sound Unlimited Posse, Ratcat, The Village Idiots, Violent Femmes
and
Yothu Yindi
.
1949, Born on this day (Thursday),
John Cooper Clarke
, 'Bard of Salford', Manchester, poet laureate. Well known for 'Kung Fu International', 'I Married A Monster From Outer Space', 'The Day My Pad Went Mad'.
1967,
Pink Floyd
spent the second of three days recording the
Syd Barrett
songs 'Arnold Layne' and 'Candy And A Current Bun' at Sound Techniques Studios, Chelsea, London. 'Candy And A Current Bun' was first known as 'Let's Roll Another One' and contained the line 'I'm high - Don't try to spoil my fun', but it was decided that Syd Barrett should rewrite it without the drug references.
1969, New Jersey state prosecutors issue a warning to US record dealers that they would be charged with distributing pornography if they were caught selling the
John Lennon / Yoko Ono
LP 'Two Virgins'. The front cover of the album showed the pair frontally nude, while the back cover showed them from behind. The album still managed to reach No.124 on the US, but failed to chart at all in the UK, where only 5,000 copies were ever pressed.
1970, James Sheppard, the lead singer from the
Heartbeats
and
Shep and the Limelites
, was found murdered in his car on the Long Island Expressway. The US singer had been beaten and robbed. The Limelites reached No.2 in the US in 1961 with 'Daddy's Home'.
1970,
Led Zeppelin
appeared at Leeds University. It was at this show when Zeppelin had a meeting with fine arts lecturer Zacron to discuss their ideas for the album sleeve of the band's next album,
Led Zeppelin III
.
Zacron, born Richard Drew, had studied at Kingston College of Art with members of
the Yardbirds.
1977,
The Buzzcocks
appeared at the Roxy, in London, supported by
Chelsea
. Also appearing at the venue over the last week;
The Damned, The Boys, The Adverts, Slaughter And The Dogs
and
Squeeze
.
1981,
Adam And The Ants
started a 10-week run at No.1 on the chart with their debut album 'Kings Of The Wild Frontier'.
2017, American drummer Butch Trucks from
The Allman Brothers Band
died of a self-inflicted gunshot wound to the head in West Palm Beach, Florida, at the age of 69. He played in various groups before forming the 31st of February while at Florida State University in the mid 1960s. He joined the Allman Brothers Band in 1969. Their 1971 live release, At Fillmore East, represented an artistic and commercial breakthrough.
1967,
The Monkees
performed live for the very first time at The Cow Palace, San Francisco to a sell-out crowd.
1994, American musician
Rhett Forrester
was shot and killed at a Northwest Atlanta intersection after he refused to give up his vehicle in an attempted carjacking, he was 37 years old. He was best known as the lead singer for New York-based band
Riot
from 1981 until 1984.
2002, English keyboardist
Peter Bardens
died from lung cancer aged 57. He was a founder member of the British progressive rock group
Camel
and also worked alongside
Rod Stewart, Mick Fleetwood
and
Van Morrison
, and recorded solo albums.
2017, English bass guitar player
Pete Overend Watts
and founding member of the 1970s rock band,
Mott the Hoople
died from throat cancer aged 69. Watts helped start the
Buddies
with guitarist Mick Ralphs, a band that evolved into Mott the Hoople after periods in which it was known as
the Doc Thomas Group, the Shakedown Sound,
then
Silence
. They became Mott the Hoople after Ian Hunter joined in 1969. Watts continued with Dale Griffin, Morgan Fisher and Ray Major in the Mott successor
British Lions
. He later became a record producer, producing albums for artists including
Hanoi Rocks
and
Dumb Blondes.